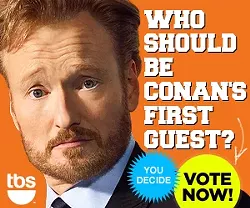 The Inlander
has officially finished
its election endorsements
. We've made our grand pronouncements on initiatives, referenda and candidates. But in our haste, we overlooked what may be the most important race Spokane residents have a chance to vote on — the race to be the first guest on Conan O'Brien's new TBS talk show, which begins Monday, Nov. 8.
Vote here, and help shift the course of our nation. Or, at least, our nation's talk shows.

It's a crowded field. There are a dozen choices, including Tom from MySpace, the full cast of the live-action Fat Albert movie, 2007 Nobel chemistry prize winner Gerhard Ertl, Lady Gaga, Brunei's Sultan Hassanal Bolkiah, Vladimir Putin, REO Speedwagon, Jack Nicholson, Justin Bieber, Thomas Pynchon, and Pope Benedict XVI.

But The Inlander, having researched the relevant issues and the positions of each candidate, hereby endorses Arlene Wagner, the curator of the Nutcracker Museum in Leavenworth, Wash.
Only Wagner has the experience, passion, and honesty to lead Conan's TBS show through these troubled economic times. Only Wagner has the depth of knowledge about nutcrackers that this position requires.
True, her opponents may have their own impressive credentials. Mr. Ertl won the Nobel prize. Mr. Nicholson has won three Oscars and has a nice smile. Mr. Benedict, we've heard, is infallible. Mr. Bieber is a dreamboat. You care about nutcrackers? Ms. Gaga, in all likelihood, has an incredibly noisy and uncomfortable outfit made entirely out of tiny wooden nutcracker figurines, that she wears as a nightgown.
But these opponents also have major flaws. Ms. Gaga's facial expressions are notoriously hard to read. Jack Nicholson is the scourge of Gotham, and remains Batman's greatest adversary, Thomas Pynchon is a bit bashful. Vladmir Putin is rumored to have Communist sympathies in his past. The cast of the live-action Fat Albert movie are responsible for the grave crime of starring in the live-action Fat Albert movie.

And as for Pope Benedict XVI, well, that isn't even his real name.
In the end, we're left with the humble, down-to-earth Washington charm of Arlene Wagner. She represents integrity, competence, and the smell of freshly-baked chocolate chip cookies cooling on the windowsill. Reject the arrogance of the wealthy Hollywood elites. Choose a woman who shares your values. Arlene Wagner is you.

Vote now. Vote daily. Because, the sad part is, for many of us, who Conan picks as his first guest will affect our lives far more dramatically than half the positions on your paper election ballot.

Arlene Wagner. Right for Conan. Right for America.