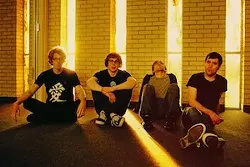 Damn, the Globes sure have come grown up. A band that took one of our "Buzzworthy" crowns back in 2007 (in which we said their "mature and distinctive sound belies their age"), they made the rounds of the RAWK Final Four and BOBfest back in the day, and now they have gotten what so many young Spokane bands dream of: a record deal.
Barsuk Records — home to David Bazan, Mates of State, Rilo Kiley and Dismemberment Plan — had been following the band for a while. But they came calling with a deal when the band's latest record, Sinter Songs, came out.
We got on the phone today with Erik Walters (guitar/vox), as the band drove to their gig tonight in Dallas, to hear about the record deal, how the band has evolved since its early days, and their surprise move back to Spokane.
The last time we interviewed you guys was back in 2008. Catch me up on the last two years.
Well, we moved to Seattle after the majority of us graduated from high school. We got a house together and we just started working on new material. We were figuring out how to be a band as a four-piece. Our main motive for moving to Seattle was to expand our horizons a little bit and challenge ourselves in a bigger city. We played as much as we could and toured here and there. And over the course of a year we managed to write 11 songs that we were happy with.
I guess about a year and a half after we moved to Seattle, we met Josh Rosenfeld from Barsuk, and he started coming to our shows and we developed a relationship with him. He seemed very interested in us, but we weren't exactly sure if we'd be working with them.
Through some connections that we had with him and mutual friends, we ended up getting ahold of John Goodmanson (Blonde Redhead, Death Cab for Cutie, Unwound) to produce [Sinter Songs]. We spent October through December of last year working on our full-length record. And when Josh heard the record, he was ecstatic about it, and he made the decision then that he wanted to sign us. ---
You just went on tour with Menomena — what was that like?
Yeah, for a week in the Midwest. It was great. They're very sweet guys, very talented — a great band. The shows were a lot of fun. It sucks being out with a band like that for that short of a time because you don't get to get to know them as long as you'd like. It was a very good experience, though. And we're on our 11th show with Minus the Bear. We're headed to Dallas right now. We're not home til December 18, and we started in Chicago on October 10.
Holy crap. That's a really long time to be gone.
Yeah, it's been great so far, though. We all know each other really well — we're used to each other, so being in the van for that long isn't a problem. It's gone by very quickly, actually.
How has living in Seattle helped or hindered your band?
It's tough because there's so many bands there. It's really hard to get your foot in the door. I don't really feel like Seattle is that big, to be honest. But the music community is so thriving. It's every night, everywhere — there's something going on. There's bands coming through. There's something to do and someone to meet and someone to go see. More than anything it's just a good place just to meet people and develop relationships. But if you're not 21 … that was a problem for us when we first moved over. We couldn't go out and make these relationships with people because we weren't 21. That was tough. That's what made us really focus on writing and acclimate to the city and the lifestyle and living to together and playing all the time.
Do you feel like being from Spokane influenced you as artists?
I think it definitely has influenced us. We're all really proud to be from Spokane. Even when we moved to Seattle we were, like, 'We're not a Seattle band, we're a Spokane band that lives in Seattle.' Spokane's not a perfect city by any means — no place is. But it's cool to be proud of where you're from. And I feel that Spokane is a unique and interesting place. I think it's had an impact on the music we make and who we are. It's the root of where we're from and why we're together making music.
I should say, we actually moved back to Spokane about a month ago.
What?! I didn't know that.
When [we last talked] we were still on the fence about it. We moved back about a month before we left for this tour, as a way for us to kind of have a home base for awhile while we're out on the road, because it's so damn expensive in Seattle. It's great being back and it's cool to see our families. We're doing it on the cheap, but our families are really supportive. Even though we lived in Seattle for a couple years, we never stopped feeling like Spokane was home.