Family dysfunction! Yelling-screaming matches! Pill-popping! Old resentments erupt between a mother and her daughters!
Lake City Playhouse in CdA is presenting a readers theater version of August: Osage County this weekend. (See info below.)
This is the first Spokane-area production of August: Osage County, which won the Pulitzer Prize for Drama in 2008. Unfortunately, Streep and Roberts, who were officially cast in the movie version just this month, won't be appearing in CdA. (But plenty of wonderful CdA actors will be!)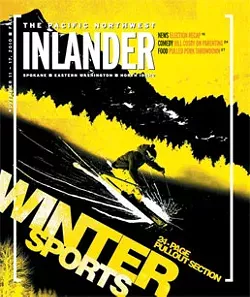 OK, let's be honest — there's a downside. This is readers theater (i.e., it's not fully staged) and this is a three-hour play.
But on the upside: It's a tragedy, sure, but filled with LOL lines. Thirteen characters, and nearly every one of them fully characterized. Osage is the closest we've come recently to Major American Play. Rebecca McNeill is a good director. And you'll get to really listen to the dialogue. And listening to a live performance is WAY better than just reading and listening to the voices in your head.
The plot would resemble King Lear, except that Lear's an alcoholic poet who's gone for most of the play, and it's not one good daughter and two evil daughters (all three of them are messed up, seriously); and Mrs. Lear not only dominates the show (there is no Mrs. Lear in Shakespeare) but pops pills and insults family members like nobody's business; and the granddaughter wants to smoke dope and have sex, and the servant is a wise Native American woman (and we're pretty sure those last two people weren't in Shakespeare's tragedy, either).
But other than that, it's exactly like Shakespeare.
But it's also, seriously, the greatest American play since Angels in America.
And it's about time we got to hear it around here.
See a review of the national touring show (from Oct. 2009) here, and then do a search for the title at stagethrust.blogspot.com for Oct. 21, 2009.
Tracy Letts' August: Osage County
Fri-Sat, Nov. 19-20, at 7:30 pm
$10
Lake City Playhouse
1320 E. Garden Ave., Coeur d'Alene
(a readers theater version)
lakecityplayhouse.org
(208) 667-1323
directed by Rebecca McNeill