For local musical-theater lovers, this is a big deal: the stage musical inspired by the 1954 movie that's partly based on the 1942 song that's associated with Spokane's favorite son, finally playing in Spokane and helmed by the Civic's resident director, Troy Nickerson.
In the plot, couple of former soldiers make it big as a song-and-dance duo. They feel compassion for their former commanding officer, who's losing his shirt while trying to operate a Vermont inn. Here's an idea: Why don't the boys (along with a coupla fine gals they've befriended and who have put together a sister act) capitalize on their celebrity by doing a fundraiser up there in soon-to-be-snowy northern New England? That'd be boffo!
In the Bing Crosby and Danny Kaye roles: Kevin Patridge and Cameron Lewis
In the Rosemary Clooney and Vera-Ellen roles: Andrea Dawson and Siri Hafso
In the Dean Jagger role as General Waverly: Tony Caprile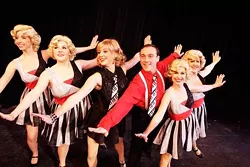 With a book from 2004 by David Ives (All in the Timing) and Paul Blake, the music and lyrics of Irving Berlin will put you in the Christmas spirit. (Which is somewhat ironic, given that Israel Baline, who lived from 1888-1989, was, of course, a Russian Jewish immigrant who moved to New York City when he was 5.)
Bing Crosby's Christmas tune, again, was a song first, then a movie, then a stage musical. The original, now-deleted introductory verse of the song, as many know, is sung by a guy who's in a sunny place with palm trees. He's nostalgic for "sleigh bells in the snow" — much like the American soldiers and sailors who were stationed far from home in 1942, when the song was initially released.
That blend of sadness and beauty suggests why "White Christmas" became so popular, and why the musical (doing good deeds for others after shared hardships) has revived its popularity. (A little tap-dancing doesn't hurt, either.)