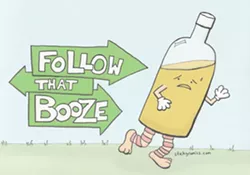 Here is a taste of downtown Spokane's happy hour specials!
Rex's Burgers & Brews serves up happy hour from 3-6 pm. Specials include: $2 beers, $5 martinis, $3 select beers on tap, $4 glasses of house wine, $3 wells, and discounted appetizers.
Charely's ushers in happy hour from 4-7 pm. Specials include: $2.50 domestic drafts, $3.50 micro drafts, and $2.50 wells.
Brooklyn's celebrates happy hour from 4-6 pm. Specials include: $2 pints of Pabst Blue Ribbon, $1.50 off micros and $3 wells.
Fast Eddies serves up happy hour throughout the day. From 3-4 pm enjoy $1 domestic drafts and $2 micro drafts. From 4-7 pm enjoy $3 22-ounce domestic drafts and $4.50 22-ounce micro drafts. From 3-6 pm enjoy discounted appetizers.