You know what happens when you walk into a local PetSmart to purchase a bag of dog food soon after you send your one and only child off to college for the first time? You adopt a damn cat!
We live far north of Spokane, and I don't mean just past the Division "Y." We live north of Riverside, close to Elk, so we have had a hard time keeping kitties and small doggies around. The locals in our neighborhood (the four-legged, canine-species; i.e. not the kind you put on a leash) like to snack on those unsuspecting kitties and small doggies. I know that sounds harsh, and trust me — we have been none to happy and shed a lot of tears after losing some of our favorite pets to these guys!
On that fateful day at PetSmart, though, Shadow and the bag of dog food come home with us. Right away we suspected Shadow was a bit odd. First of all, he has a tail. All of our kitties in 25 years of marriage have been manx kitties; aka no tail. We had quickly forgotten what noises a cat can emit when said tail becomes tangled with doors and feet! We also noticed that you can vacuum, drop heavy objects or even set off small explosive devices close to his head and he continues to peacefully sleep. Yep — you guessed it — he's deaf, too!
Today, Shadow remains our special needs kitty. We have figured that Shadow (he was adopted at PetSmart through the Spokane Humane Society) was God's way of telling us to keep our smaller, well-loved pets inside the house!
— Dee Ann Cook, Business Manager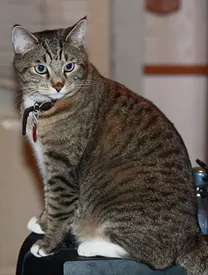 VINNIE AND TONY

Vinnie's (far left) next stop was going to be the Spokane Humane Society before we welcomed him into our home. He was almost a year old, and within a short time his kitten friskiness subsided and he now has a hard time getting him off the couch. Eating and sleeping (especially in clean laundry baskets) are Vinnie's favorite activities, although he really enjoys chasing laser pointers — those things are like kitty crack!
One day, we took a spontaneous trip to Northwest Seed & Pet and fell in love with the little kitten in the window. Tony came home with us that very day and Vinnie instantly accepted him as his brother. They have been inseparable ever since. Unlike Vinnie, Tony is full of energy ALL of the time, even at three years old. He is known for running laps through the house and knocking over anything that gets in his way. He has tons of toys — most of which are under the oven — but his favorite toy is the plastic thingy from the top of the milk carton. Go figure.
— Kristina Elverum, Marketing Director
THUNDER
Meet Thunder! He is a 6-month-old spotted snow cat with the loudest purr you have ever heard, thus the name Thunder. We were lucky enough to find Thunder at the Spokane Humane Society just as we were walking out the door to leave.
Thunder is a chill kitty who loves jumping into the freezer whenever the opportunity arises, and during the winter attempts to escape outside to dive into the snow. When scolded, Thunder often talks back and gives a well-intentioned explanation for why he need to: climb the palm tree, jump on the counter, or explore the freezer… followed by purring and dramatic displays of love to make you forget why you were even scolding him in the first place.
His favorite toys are a yellow ribbon leftover from a present and his hedgehog toy. He is happiest when playing fetch, and has been considering challenging the dog next door. Thunder is an avid sleeper who prefers the reverse planking position or snuggling on a cozy lap. When he is not busy napping, he enjoys scoping out the best cave to explore or houseplant to safari.
Thunder often ponders the mysteries of the world. Presently, he is close to cracking the case of the red cup with a straw and lid. His scientific process includes tipping over the red cup whenever an opportunity presents itself and tasting the contents. (Seriously, he has a crazy fascination with this cup)!
— Raevyn West, Marketing Coordinator
DASH
This is Dash. We got her at Evergreen Pet in 2011. We named her Dash because she sat on the dash of the car on the way home from the pet store, soaking up the sun. She has been a fun addition to our home, and she does not lack personality whatsoever. She's a lap cat and loves to snuggle and be with people at all times. Oddly enough, she loves water and will sit on the edge of the shower while someone is showering. She also will sit in the sink and watch you get ready in the morning. Dash is now temporarily living with her "Gram and Papa," and I'm not so sure that I will get her back. She is very much loved!
— Bev Bowman, Account Executive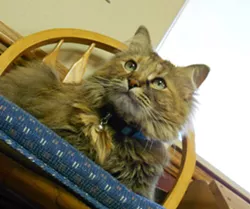 LUCY
No one calls my cat by her rightful name, Lucy. Rather, everyone has named her as they see fit: "Simba," "Mrs. Darcy," "Kitty," "Hilary Clinton" and even "Mrs. Putin." I finally started calling her Mini Paws, since her little feet are the most destructive thing about her. Paws likes to claw the carpet, shred cardboard and scratch on door frames. She's been a little ball of destruction since I picked her up at the Kootenai Humane Society last summer. She also loves spilling water glasses, walking on counters and trotting across my head at night when I'm trying to sleep. She gets upset if the living room door is closed (due to her affinity with sprawling on a dresser in front of the TV) and has no problem scratching your feet if she's feeling frisky. But even though she has turned my house into a veritable spring of brokenness and devastation, I wouldn't have it any other way.
— Sarah Munds, Arts and Culture Intern
MICK and CLEM
Mick and Clementine were born in a litter of five — all of them orange — last October. Their early weeks were spent with a Spokane Humane Society foster family, and they've been with us since mid-December. (Their mama, Cheeto, also got adopted before the end of the year.)
Clem is the clever one, and the petite adventurer. She is fearless about exploring new territory and typically has a smudge of dirt on her nose from sticking it where it doesn't belong. If there's a little cat knocking books down from the top of the bookcase, or stealing away with an iPhone, it's probably her.
Mick is content to let Clem do most of the exploring. He's so laid-back and relaxed, he's been known to stretch out and fall off the edge of the couch while napping. He does feel strongly about some things, the most recent being the bathroom rug. He burrows beneath it and then sits there wearing it like a cape. (If Clem gets there first, she'll sit on top of the rug so Mick burrows to no avail.)
They wrestle and chase each other, but it's all in good fun. Their favorite thing in the world, other than chewing on boxes and getting fed, is playing with pipe cleaners. Mick and Clem also have their own Tumblr with tons of pictures of their kitten antics.
— Lisa Waananen, Web Editor, and Jacob Jones, Staff Writer
TANNER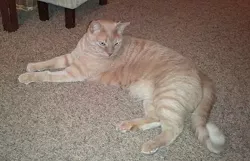 Name: Tanner ('cause he's tan!)
Age: 5 years old
Weight: 14 lbs. (yep, he's a fatty.)
We got Tanner on Thanksgiving weekend of 2007 from our cousin. We got him because we thought, It would be nice to have a pet and after all, cats are low-maintenance and won't cost us much, and he's just a cat so we won't get too attached. Riiight. He now has the nickname "the million-dollar cat" because since we've had him he's had an abscessed tooth that had to be removed, somehow got a stick lodged in his tummy that turned into a gaping hole and the latest incident was a urinary blockage due to crystals (which are common in male cats). Aside from all that we've, of course, become so attached to him that if we lost him it'd be like losing our kid. He's the greatest cat anyone could ask for. He LOVES to cuddle, purrs almost as soon as you look at him, chases balls and fetches just like a dog and doesn't shred our furniture! He loves people and isn't one of those cats that runs and hides under a bed when company's over. We love him!