Seattle-based rapper Macklemore has been getting a lot of buzz lately, including in The Inlander's newsroom this afternoon.
We've been talking a lot this week about Macklemore and his music producing partner Ryan Lewis, and for good reason: both will be featured on the cover of next week's Inlander. (UPDATE: Read it here.) The Feb. 28 cover story profiles the duo, mostly focusing on how Spokane-native Lewis met and started producing music with the rapper, whose real name is Ben Haggerty. In case you hadn't heard, Macklemore & Ryan Lewis are a pretty big deal these days.
One point that came up today, though, was how to pronounce the name Macklemore. Before any die-hard fans criticize and call us ignorant Spokanites, we've all heard it pronounced in two very distinct ways, with varying emphasis on the middle syllable.
Half of us decided it's Mack-lé-more. The other half said, no, it's Mack-ell-more, pronounced as his name is phonetically spelled.
So which way is it? The rapper himself says on his Twitter, in response to another fan's similar question, that it indeed is Mack-lé-more.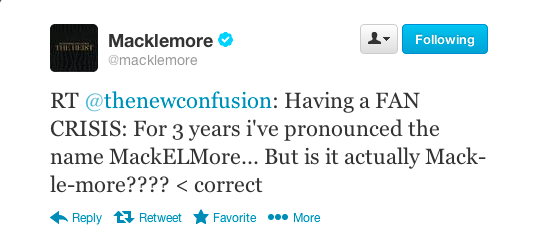 There you have it.
In other news about the duo — who are a headliner at this year's Sasquatch Music Festival, as well as a few other fests, including Bonnaroo in Manchester, Tenn., and Camp Bisco in Albany, N.Y. — they'll also be playing a concert at the University of Idaho in Moscow, on May 3 as part of the school's Finals Fest. It's free for U of I students in exchange for a non-perishable food donation, and tickets for the public go on sale April 1 for $15-$20.
Eastern Washington University's associated student council is also trying to book the popular pair at a spring concert, as a lure to get more students to vote in its upcoming ASEWU election.