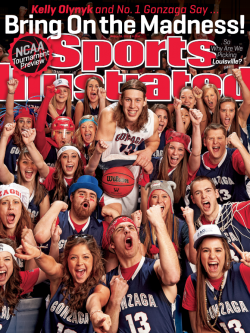 It's a good week to be a Zag: Last night, the Spokane City Council issued an official proclamation that this is "
Gonzaga Basketball Week
," and star player Kelly Olynyk is gracing the cover of
Sports Illustrated
with a pack of fans this week.
But wait, isn't that a bad thing?
The SI cover jinx is a well-known phenomenon, but don't despair just yet — it's never been proven as exactly accurate. The remarkably thorough Wikipedia entry on the jinx notes that it is "an example of confirmation bias."
"The most common explanation for the perceived effect is that athletes are generally featured on the cover after an outlier performance; their future performance is likely to display regression toward the mean and be less impressive by comparison. This decline in performance would then be misperceived as being related to, or even possibly caused by, the appearance on the magazine cover."
But then it goes on to catalog dozens of "notable incidences" of the jinx, including Gonzaga player Matt Bouldin's cover appearance in 2010, so you decide.
There is, however, a chilling truth beneath the superstition: Teams and players get featured when they're at the top. And, typically, what goes up must come down.
But hopefully it will be a long while before we have to think about that. Happy Gonzaga Basketball Week!