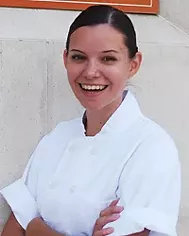 Who's the best new pastry chef in the country? That's the question
Food & Wine
magazine is
putting to a vote
, and the answer could be the Spokane native Lynette Pflueger.
Pflueger left for the Northwest for Hawaii in July 2011, but she grew up in Spokane and went to WSU before heading to Los Angeles for culinary school. And astute diners in Spokane undoubtedly remember her time at Santé between 2009 and 2011.
There are 16 pastry chefs vying for the West Region title, with a total of 50 nationwide. There are no longtime industry veterans — that's the point — but the nominees represent a long list of impressive restaurants.
The nomination came as a complete surprise to Pflueger. Chef Mavro, where she works in Honolulu, is the kind of prestigious, award-winning restaurant that attracts top critics, and months ago they served a group of writers and editors from Food & Wine. "We had thought nothing had come of it but — surprise! — one day we got the news that I was nominated," Pflueger wrote to us.
She says it's been both fun and challenging to create dishes with the variety of produce available in Hawaii — and it's not bad living in the only state that grows chocolate.
"One of my favorite things about Hawaii is that I'm able to use truly local chocolate," she says.
She adds, though, that she's looking forward to coming back someday to put all her skills to use right here in Spokane.
To vote, click on over to the Food & Wine website by April 8. You only get one vote per IP address, so it's not the kind of competition where you have to come back and vote again every day or anything. You don't even have to type an email address. Just two clicks. Do it right now.