Judges, justice advocates and convicted felons packed side-by-side Wednesday night to offer preliminary public feedback on a recently released draft report from the Spokane Regional Criminal Justice Commission on how to improve efficiency, cooperation and offender outcomes within local law enforcement, court and jail services.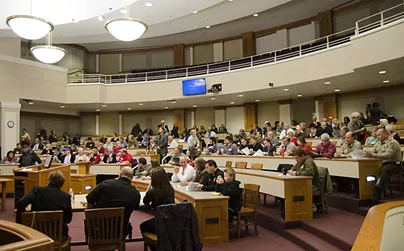 Dozens of attendees filled the courtroom at the Gonzaga Law School. Retired Judge James Murphy, who chairs the three-person commission, asked the audience to keep comments short and focused on specific recommendations from the 58-page report.
"This document is a draft," he said. "Your position is important to us."
With at least 43 specific proposals for reforming the local system, the commission's report (released Thursday) has proposed wide-ranging changes across a five-year timeline. The report praised some "pockets of excellence" within the system, but also called out some departments considered to be lagging behind.
"We've probably ingratiated ourselves to some people and we've probably really irritated other people," Murphy told the crowd. "We tried to be as forthright as we could be based on all the information that we gathered and we would welcome your comments."
More than 25 people stepped forward to offer comments, including public officials, activists and family members of offenders currently in the local criminal justice system. Many representatives from the Smart Justice Spokane campaign turned out to thank commissioners for the recommendations, which closely mirrored many Smart Justice priorities and proposals.
Many speakers emphasized the importance of developing a robust and fully funded network for diverting defendants with mental health issues out of the jail system. Offenders with drug and alcohol issues should also have programs that help the address their addictions. Other speakers stressed the importance of keeping families involved in the process.
Bart Haggin, a Smart Justice supporter, said punishment should not be the answer for every offender. He and others commended the commissioners for endorsing a system that would look at "whole people," assessing their needs and risks. They repeated the importance of focusing on "outcomes, not outputs."
"We're trying to do the right thing, not the cheapest thing," Haggin said.
The commission report targeted some of its strongest criticisms at the county's District Court, saying the court lacked cohesion and appeared resistant to reform. Judge Randy Brandt with the District Court disputed many of those conclusions, saying the court had introduced several innovations in recent years.
"We feel that the report is somewhat unbalanced," he said, noting the court agreed with many of the proposed goals in the report.
Brandt argued the District Court had led efforts to use alternative DUI monitoring programs and the use of electronic warrants. He said the District Court also introduced specialized therapeutic courts for veterans and defendants with mental health issues.

"That is an unparalleled and substantial innovation," he said, adding, "These and many other innovations all reflect our attempts to reduce recidivism."
Dom Felix, a convicted felon who served five years for meth distribution, voiced strong support for the proposed expansion of the county's Adult Drug Court.
"It's really a no-brainer," he said.
At least two other self-identified felons stepped forward to describe their challenges with accessing services. They said they had struggled to get housing and education assistance. One man described his efforts to keep his newborn son.
Both stressed the importance of helping connect newly released felons with services that can provide guidance and structure upon reentry into society. They said such programs had helped turn their lives around.
Breean Beggs, a local attorney and justice advocate, voiced appreciation for the commission's "tremendous" efforts, saying the report offered an honest and clear assessment of Spokane's criminal justice challenges and the ambitious steps necessary to address them.
"I wanted to commend all three of you for your courage in speaking the truth," he told the commission, adding, "I think it's going to be that courage that gets us to the next step."
Beggs and other advocates pledged to support the commission's ongoing reform efforts, committing to a long and potentially difficult implementation process.
"We will stand with you to insist that the plan goes forward," he said.
Commission members Jim McDevitt and Phillip Wetzel recognized the hard work and dedication of many officials within the system. They noted they held 37 public meetings and interviewed more than 400 individuals for the report. They thanked the group for their input throughout the process.
"It was a whole lot harder and a whole lot more work than I thought it was going to be," Wetzel said, but also more interesting.
Murphy assured the crowd their comments would be considered for integration into the commission's final report. He promised that final report would be released by the end of the year. The commission received a standing ovation as they concluded their remarks.
"Here's hoping that we come up with a more efficient, economical and successful criminal justice system as a result of this project," Murphy said. "Thank you all very much."