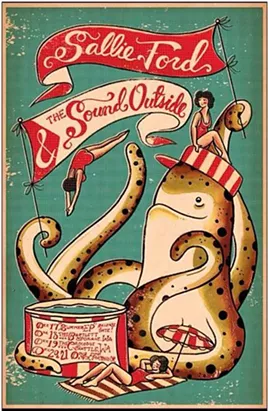 There comes a time in the life of most bands when its members "must" part ways. Portland band Sallie Ford and The Sound Outside is doing just that announcing last night that tonight's show at the Bartlett would be one of their final performances as a band.
The breakup news came as a shock to many fans who have watched the rockabilly four-piece grow from Portland obscurity in 2007 to openers for the Avett Brothers. The band released the album Untamed Beast earlier this year.
Here's what the Facebook post said:
"Hey, everybody. There will be changes for us in 2014.

Sallie Ford & The Sound outside have decided to break up and head their separate ways. It is a mutual decision and there are no hard feelings or ill will between any of us. We still love and support each other in whatever we do.

You can expect to see more from Sallie in 2014, as she's been writing for a new record. She is keeping her name in a new project and starting an all-girl band with some really talented local ladies, us guys are excited to see them churn out the hits, so keep your ears peeled."
Read last week's Inlander interview with Sallie Ford here.
There are a limited number of tickets left for the show tonight at the Bartlett. The box office will open at 6:30 pm and tickets are $12.