Not to brag too much about our own 'hood, but there's a lot of construction progress happening in Kendall Yards. We peered into the Yards Bruncheon the other evening, and it seems like the brunch-focused Adam Hegsted restaurant is still on schedule to open as soon as next month. Brain Freeze Creamery posted a rendering of what their shop will look like, and Veraci Pizza showed up in the liquor license applications. (Construction is yet to begin.)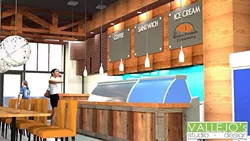 Hooters in Spokane Valley closed its doors this week. The Owl Club Casino will remain open, and two new restaurant businesses are planned for the space.
Grumpy Monkey Coffee & Bakery opened its door in Coeur d'Alene the weekend before Christmas, and this week's Entree newsletter has more about the new shop.
Indaba remodeled for the new year, and will be serving Manners Roasting Co. coffee.
Clover has a loyal fan at Food & Wine. Cocktail guru Jim Meehan gave the restaurant and cocktail bar a nod as one of the Top 100 new cocktail bars earlier, and now included them among a handful of best new bars in the U.S.
Up North, Mr. Wok is now home to a dual concept with Chicago Beef Co., purveyor of hot dogs, sausages and sandwiches.
More beer! Iron Goat is doubling their brewing capacity and Ramblin' Road is getting very close to opening the taproom.
We wrote about Nectar Tasting Room coming up on three years last fall — now it's actually time for the three-year celebration this weekend.
In Pullman this Saturday, allergen-free bakery Artfully Yours is hosting an indoor market with area farmers market vendors.
This one's a little late and a little out of our region, but who can resist a good David vs. Goliath story? Missoula's Big Sky Brewing is suing Anheuser-Busch for using the "Hold My Beer" slogan that appears on Big Sky cans. They don't want anyone to think there's an association between the two.
Restaurant Week is coming up in February, and it's got a new name — Inlander Restaurant Week — since it expanded to North Idaho this year. More than 70 restaurants have signed up to participate, and menus come out Jan. 30.
Read previous food news here.