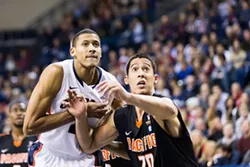 The Zags are in good shape heading south to Portland tonight for their first away game of the young WCC season. They take on the University of Portland Pilots in the awesomely circular Chiles Center tonight at 8 pm. The game is on ESPNU, so if you have the sort of Cadillac cable package that offers that channel, enjoy the game at home. If not, head to your watering hole of choice for this one.
Despite all the whining from Zag Nation about injuries (that whining is totally justifiable) and the fact that the team had to play its first four conference games at home without their students (not as justifiable), Gonzaga has started conference play off amazingly. Three of the four games were 20-or-more-point blowouts. And... Sam Dower Jr. is back! Drew Barham is drilling threes while looking like an altar boy! Angel Nunez is finally playing (more on that in a bit) and dunking! The students and band and cheerleaders and all the pizzazz they bring with them return to campus next week!

As for the Pilots, they are better than expected. Yeah, they are only 1-3 in conference play (9-7 overall), but they've hung in there in all of those losses, including Saturday's 72-63 defeat at the hands of a Randy Bennett-less Saint Mary's. UP has had trouble with the Zags for, oh, going on 11 years. They haven't won since a 2003 upset in the old Kennel.

Local hardcore hoops fans will recognize one of Portland's leading scorers — senior forward Ryan Nichols. The Gonzaga Prep grad is averaging 13 points and 9.3 rebounds a game for the Pilots and will be one of the tougher challenges for the Zag big men tonight. We're planning a feature on Nichols when he returns home to face GU on Feb. 5.

NUNEZ TIME
In his four games on the court for the Zags, transfer forward Angel Nunez has lived up to the hype that preceded his arrival. Coach Few must have a plan for him because the 6-8 New York Native has played either 13 or 14 minutes in all of his appearances, the most promising being a 13-point burst against St. Mary's. With Dower back and Barham shooting well, we might not see Nunez in the starting lineup anytime soon, but look for and his high-flying ways to be an impact for the rest of the WCC.

MEANWHILE, IN THE REST OF THE WCC
The West Coast Conference's first year as a 10-team league is already looking weird. BYU is currently near the cellar with losses against LMU and Pepperdine to start the season. St. Mary's is still without their suspended coach and are playing quite coach-less as a result. And Pacific, who many — including myself — thought would be right at the top of the conference, hasn't won a game. Obviously, this bodes very well for Gonzaga, who are sitting quite pretty at the top of the heap as they head into a three-game road trip.

On another WCC note — more diehard Zag fans (probably you if you're still reading) should keep an eye on Root Sports. The regional cable sports channel has been showing a ton of WCC hoops this year in case you want to keep an eye on future Zag opponents. At 7 pm tonight, they have a live telecast of what should be an interesting Santa Clara/St. Mary's game and then they follow that up with a 9 pm tape-delayed showing of Loyola Marymount vs. San Diego. The increased visibility of this conference on TV is a good thing for the Zags, just so you know.

IN COUG NEWS...
Did anyone make it down to the Spokane Arena last night? The WSU men's squad made a trip north to give their Spokane fans a treat, taking on a very, very good No. 15 Colorado. The Cougs had a nice lead at the half, but eventually lost in overtime 71-70. It was a heartbreaker for WSU, especially considering this was coming off a loss on Saturday in which they scored only 25 points (just 7 in the first half) to Arizona. There's still some hope down in Pullman, Coug fans. Don't give up yet.