Unlike sports teams under fire for using American Indian names and stereotypes, the Spokane Indians baseball team is closely allied with the Spokane Tribe of Indians. When the team unveiled a new logo in 2006, it included an alternate version with "Spokane Indians Baseball Club" written in Salish, the tribe's native language.
Now they're making those ties more visible — the Salish logo will be the one featured most prominently on the team's home uniforms this coming season. They'll make their first appearance Opening Night on June 13 and most other Friday and Saturday night games at Avista Stadium. The Salish logo has been on the uniform sleeves in previous years.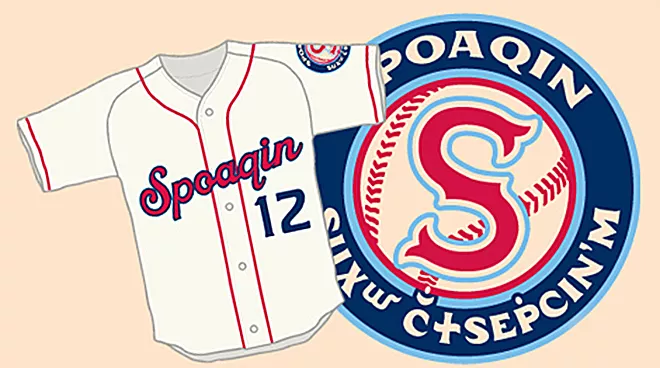 The team officially announced the change today. Indian Country Today has a detailed story about the collaboration, with comments from tribe leaders:
"The Spokane Indians baseball organization has been very respectful and very kind," Spokane tribal chairman Rudy Peone said. "The Spokane Indians are not the Spokane Savages, not the Spokane insert-derogatory-word here. It was named specifically after us. In our last meeting, last Spring, they talked about changing their uniforms and using the Salish spelling for their team. That was received very well from us. They don't have any imagery that would be not very flattering and we appreciate that."
Read more here. Check out the Spokane Indians' 2014 season schedule here.