Inlander Restaurant Week menus are up as of this morning — check 'em out here.
Unless you're personally out on the field, the Super Bowl is primarily an eating and drinking event. If you feel like going out, we're keeping a list of specials and parties in the Inland Northwest here. If you're entertaining, we've got some appetizer recipes from local chef Laurie Faloon in this week's issue. If you feel like cooking and going out, Press is hosting its annual chili cookoff on Super Bowl Sunday. (And Rosauers is doing their snack-food sale bonanza today until 8 pm.)
There's another holiday before the Super Bowl: Ice Cream for Breakfast Day on Feb. 1. (Maybe not a widely celebrated holiday, but whose fault is that?) The Scoop serves coffee and waffles along with Brain Freeze ice cream, and posted this delicious photo of their signature Affogato Waffle with Bacon and Salted Caramel.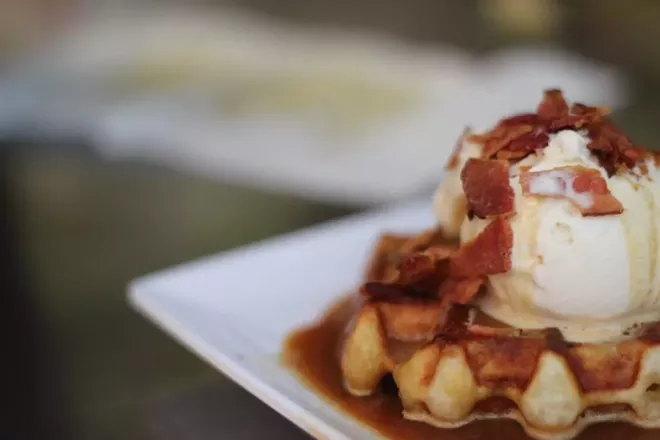 Later on Saturday, River City Brewing is hosting a Groundhog Day prediction party with David's Pizza and the last remaining kegs of this year's Midnight Marmot imperial stout. Come dressed either in summery or wintery garb to register your prediction and enjoy $2 pints.
Oh, we've also got the Chinese New Year celebrations — Panda Express is offering a free serving of Firecracker Chicken Breast as part of its Chinese New Year education outreach, and Spokane Community College is hosting a celebration on Saturday.
A few openings… the Ramblin Road tap room near Gonzaga opened last weekend, and English Setter Brewing in the Valley is planning to open Saturday.
This week's Entree has news of Aebleskivers in Coeur d'Alene, which is settling into a permanent space after a successful holiday season.
In downtown Spokane, the Daiquiri Factory is preparing for its opening weekend of drinks and dancing.
Here in Kendall yards, the Yards Bruncheon will open next week. The adjacent Wandering Table restaurant was framed this week and work has continued through the snow.
The former Sidebar and Grill near the courthouse will be reopening soon as Knockaderry, an Irish-style pub.
Central Food, which hasn't previously had a happy hour, is starting "The Golden Hour" from 3 to 6 pm Monday through Thursday with food and drink deals.
Neato Burrito and the Baby Bar will be closed for lunch Feb. 3-7 while the crew takes a vacation.
After closing in December, Ace's Casino is planning to open again soon.
Villagio, at the Vintages @ 611 location on the South Hill, is now closed and looking for a new space.
South Main Restaurant & Sports Bar in Colville is now hiring for a planned opening in February or March.
Orlison Brewing is getting its own "Drink No Evil" badge on Untappd, the beer-tracking app, by drinking two of its beers between Feb. 1 and April 1.
Dry Fly gin got a glowing writeup from Simple Cocktails.
If you make coffee at home, let Roast House show you how to do it properly on Saturday morning.
On a final note, Inlander art director Chris Bovey is unveiling a new Inland Northwest-themed landmark poster next Friday — he's previously done places like Mount Spokane, Dick's and the Tradewinds Motel. I got a little peek at the new one, and I can tell you it's a local restaurant.
Read previous food news here.