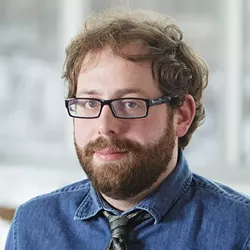 Pending a stay of the court decision, county clerks in Idaho will begin to issue marriage licenses to same-sex couples this Friday. Finally, all Idahoans will be given the freedom to marry.
It's a big deal and it should be celebrated. Even if the decision to overturn Idaho's marriage ban is delayed, we're now much further down the road to justice for all our citizens.
But the scary thing is that in too many parts of Idaho, once a couple gets married and sets a picture of themselves on their wedding day on their office desks, they could be asked that same day to clean out their desk and never come back. When they got home, they could find that their landlord had decided to end their lease based solely on their love for their new spouse.
This is because Idaho has failed to expand our Human Rights Act to protect people from discrimination based on their sexual orientation or gender identity.
For years now, the legislature has failed to even give the issue a public hearing. They have closed their eyes and covered their ears to the discrimination faced by too many Idahoans. And without seeing and hearing from the people affected, it has been difficult for them to open their hearts.
Yesterday, Idaho Governor Butch Otter filed a preemptive request to stay the decision to allow the freedom to marry in Idaho. I believe he already knew that history, the law and our Constitution would require the ruling from Chief Magistrate Justice Candy Dale to come down in defense of ensuring equality for all of Idaho's citizens.
But today, the Idaho Statesman reports for the first time that I can recall, that Governor Otter believes the legislature should finally hear from the public about the need for an expansion of the Idaho Human Rights Act. Even as he tries to hold progress back, he admits that it is time to take the next step forward.
Some local cities haven't waited. In Sandpoint, we took that step at the end of 2011, prohibiting discrimination based on sexual orientation and gender identity in housing, employment and public accommodations. We were followed by Boise, Coeur d'Alene, Moscow and others — including the City of Pocatello.
The immediate battle to protect the rights of all Idahoans is taking place next Tuesday in Pocatello, where a small group of residents are trying to take away the rights so many have fought so long for. The city's anti-discrimination ordinance is on the ballot and its fate could determine the momentum and the politics for expanding protection across Idaho.
Standing up for their city and its values is the group Fair Pocatello. They want to make sure that someone isn't fired from their job or denied housing just because they are gay or transgender. (In the interest of full disclosure, I've actively supported and donated to this campaign — so should you, by the way!)
This is a battle we must win on the road to justice. For as Martin Luther King, Jr. once said, "The arc of the moral universe is long, but it bends towards justice." It's amazing to be alive at a time when we can watch that bending take place and add our own weight to more swiftly point it in its ultimate direction. ♦
John T. Reuter, a former Sandpoint City Councilman, is the executive director of Conservation Voters for Idaho. He has been active in protecting Idaho's environment, expanding LGBT rights and the Idaho Republican Party.