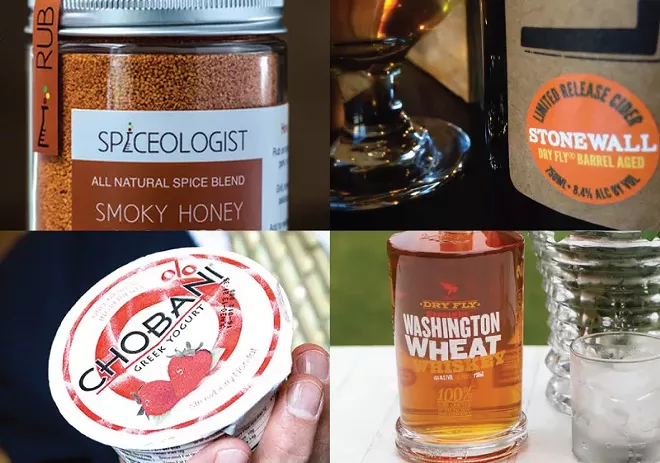 This week's update is heavy on the drinking. Pace yourself as needed.
There are just over two weeks left to go in Spiceologist's latest Kickstarter campaign, this one funding an expansion to launch their line of spice rubs nationwide. Check out the project here, and look in next week's Summer Guide issue for ideas and tips on how to use the rubs in creative ways this summer.
Flora, a yogurt company, successfully reached its Kickstarter goal and will be teaming up with Batch Bakeshop later this year in their new West Central location.
In other yogurt news, Chobani is laying people off from its Idaho plant.
Thrillist put together a list of Washington's 10 best restaurants outside Seattle and included Casper Fry and the Black Cypress in Pullman. (Aside from one in Walla Walla, the rest are all still on the west side.)
In his column this week, Luke Baumgarten quietly dropped the exciting news that the folks behind Nudo are planning to open a burger joint on the same block.
This week's Entree newsletter introduces a new local tequila company, Nightshade Experience. Read more here.
Latah Creek Winery cleaned up at the Seattle Wine Awards, with each of eight wines entered coming home with an award, and other local wineries had a good showing as well.
Last week we mentioned the upcoming Washington Brewers Festival in the Seattle area; also coming up this weekend is the 20th Annual Mountain Brewers Beer Fest in Idaho Falls, with a fair amount of location representation among the participating breweries.
Dry Fly vodka and whiskey got mentioned prominently in a Father's Day gift guide. (Conveniently, there is a 25 percent off Father's Day coupon from Dry Fly on page 27 of this week's print issue.)
This Pearl vodka mixology contest is labeled Seattle, but you'll find a few local names to vote for if you're so inclined.
First Friday is coming around again tomorrow, and along with the art we've got a couple of beverage releases. Liberty Ciderworks is hinting at a limited-release Dry Fly barrel-aged cider, and River City is releasing their Riverkeeper IPA at the downtown Numerica location. Like last year's Riverkeeper Red, it benefits Spokane Riverkeeper. But it's an entirely new beer — a true Northwest IPA made with local hops, grains and, of course, local water.
Iron Goat is celebrating two years with a big celebration on Saturday, and apparently the Inlander's own Mike Bookey is going to MC for a while.
This weekend is also Elkfest, and this year there's the option to bring two cans of food for 2nd Harvest food bank instead of paying the $2 cover charge for the beer gardens.
More upcoming drinking: Spokane Preservation Advocates is hosting a Pints for Preservation pub crawl on June 14 to learn about historic architecture in Spokane and, well, drink.
Swirl Washington is also coming up on Father's Day.
Bella Cova, which had started family dinners and a farmers market this year, is on the move after a sudden lease issue.
Recreational marijuana is getting into the food industry — check out yesterday's Weed Wednesday post for a Seattle company making cannabis-infused coffee beverages and problems with edibles.
Candied bacon cannoli, deep-fried olives on a stick, "Comet Corn" — the Minnesota State Fair, where I once worked, revealed this year's absurd list of new foods. It makes Pig Out look like a salad bar.
Read previous food news and musings here.