Fall is coming whether you like it or not, so what better way to usher in the season than Washington Cider Week? Our region's own handful of cideries are hosting events in celebration of the fourth annual statewide event, happening Sept. 4-14. For its fourth year, Washington Gov. Jay Inslee signed an official proclamation designating 10 days of September to celebrate cider made from our state's apple bounty.
Meanwhile, across the stateline, Coeur d'Alene's new North Idaho Cider is prepping for a late fall launch of its first batch of Lake City Cider.
Just in time for WA Cider Week, Green Bluff-based Twilight Cider Works has released two new ciders, a seasonal peach cider and its Winesap cider, a bold, single varietal cider that's perfect for autumn.
Green Bluff is home to a new brewery, 238 Brewing Co., whose name harkens back to the days of operator switchboards, when 238 was the prefix for Green Bluff area farms. Currently its owners are looking to officially open at the beginning of October.
A long-vacant spot on the southern edge of the Browne's Addition neighborhood is getting a new purpose as Hacienda Las Flores plans to relocate its market and restaurant to the old Sunset Junction bar from its spot at Freya and Fifth.
A new gluten-free bakery and restaurant, Cole's Fine Foods, opened about two weeks ago in a North Spokane retail center at 521 E. Holland. Its product list includes muffins, scones, cinnamon rolls, cakes, pizza and pizza crusts, dinner roles, crackers, baking mixes and more.
A second Spokane-area location of Hop Jack's, a Washington state-based chain with a focus on Northwest beers, is set to open at the Spokane Valley Mall later this year.
Early plans have surfaced for a proposed restaurant/bar and card room at the former site of Scout Tavern on the street level of the Montvale Hotel. Yet, because the property is managed by a Chapter 11 trustee after owner Rob Brewster filed for bankruptcy early last year, it's unknown when or if the plans could move forward. A recent liquor license application for the space, at 1001 W. First, was posted last week on the WSLCB site, under the business name Sutton's on First. We spoke with the license applicant, Stephen Weinstein, on the phone this afternoon, and the Park City, Utah-based owner told us he's still waiting for an update on his lease proposal from the property's trustee. We will continue to follow these developments on the prominent downtown space and share any updates.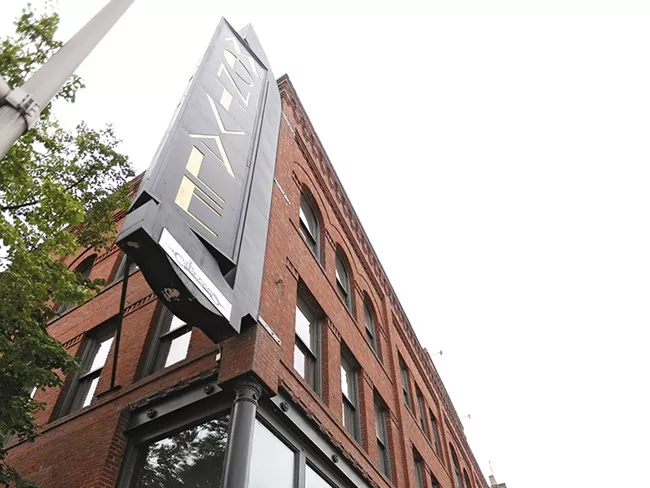 The Library Lounge bar at the Quality Inn hotel on East Fourth Avenue downtown has closed.
New owners of the former Globe Bar & Grille space at the corner of Division and Main, and the same team behind the adjacent Blind Buck bar, plan to open a to-be-named bar and dance club.
A new Vietnamese restaurant called Pho Thinh appears to be moving into a long-vacant space at 6022 N. Division, near the Francis-Division intersection, which years ago housed a Pizza Hut restaurant.
It's going to be upon us before we know it — the Washington Beer Commission's annual Inland Northwest Craft Beer Festival. It's set for Sept. 26-27, and this year moves to a new venue — Avista Stadium — from it's past takeover of Riverfront Park's Gondola Meadow. Tickets are on sale now, and a list of participating breweries (including 11 from Spokane and four other regional beer makers) can be found online along with all the event need-to-knows.
Check out highlights of No-Li 12, the brewery's recent small batch beer fest, featuring 12 rare beers, most of which you could only try at the sold-out event. Hopefully you were there, but if you weren't, find out what you missed in the video below. Also, keep an eye out for No-Li's first-ever barrel-aged beer that's been bottled — Blackfill — of which only 1,200 bottles were distributed around the region.
Read previous food news here. Find food events here. Sign up for the Entree newsletter here.