Yesterday afternoon, fueled by an inordinate amount of accidentally vegetarian pizza and Diet Dr. Pepper, nearly all of our editorial department sat down and watched the first episode of the Spokane-shot SyFy channel show,
Z Nation.


The show debuts tonight at
10 pm on SyFy
, and if you haven't heard, it's about zombies and people who try desperately not to either become a zombie or get eaten by zombies. So yeah, it's a zombie show. I wrote a little about how it wasn't, ya know,
horrible, in this week's paper
. I actually used the phrase "pretty good" — which I now regret having watched the show a second time. I'd like to downgrade my assessment to "not
that
bad."
But we needed to focus-group this thing.
The screening was interrupted frequently by people asking questions like, "Does every zombie show have to exist in a world where none of the characters have ever seen a zombie show?" and waxing philosophical with observations like, "This is the part where man becomes more of a threat than the zombies." There was also a lot of laughter, which we're still not sure the
Z Nation
producers were looking for.
THE WALKING DEAD COMPARISONS
One aspect I can appreciate is that it doesn't require dealing with as much, um, "thinking" or "feeling" as the inevitable comparison partner
The Walking Dead
. As memory serves, even the
Dead
pilot evoked actually caring about the characters, while
Z Nation
seems like it's going to be all about the action. Kill them zombies! Get Murphy to California! Watch out for that infected baby! I really hope it continues that way, because efforts to make the viewer care instead of just enjoy for its popcorn-cheesiness probably won't go so well given the low caliber of the acting, and the ridiculous (lack of) special effects. Another bad note — having DJ Qualls turn into Mr.
Pump Up the Volume
DJ at the end. Yikes! No. More baby zombies. Less DJ Qualls. And no thinking, dammit!
(Dan "The New Guy" Nailen)
Z Nation
isn't really doing anything new, which might not be bad. Zombies ascended on the popularity of straight-forward horror classics like
Night of the Living Dead
or
Evil Dead
— stripped-down, gore-splattered, who-will-die-next survival thrillers.
Z Nation
seems to serialize that concept. Sure the premiere has pacing problems, laughable dialogue ("I hate moral dilemmas!") and some stereotypical characters, but it moves quickly and keeps the zombie slaughter coming. Hopefully, the series can dial in the tone, which seems to ping-pong from serious drama to camp a little too liberally. If so, it might easily replace your Saturday night horror-flick marathon.
(Jacob "Thunderbeard" Jones)
WEIGHING THE GOOD AND THE BAD
Pros
:
cool old guy,
no one yelling "Carl!,"
zombies getting their entire brain shot out of their head, zombies getting hit by a truck, school bus full of kid zombies, lake zombies, zombie baby.
Cons
:
All of the dialogue, WHY ARE THEY WASTING SO MUCH AMMO?, no sharks.
(Heidi "Save the Bullets" Groover)


On the second time around, I thought I'd recognize more of Spokane. I also thought there would be more sweaty sexy guys, because television has taught me they make the best zombie killers.
(Mike "Father of Zombie Baby" Bookey)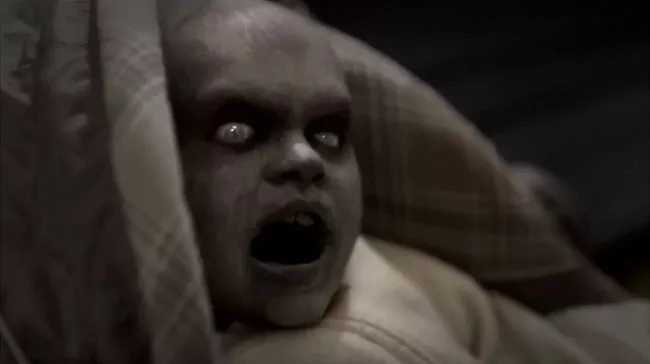 THOUGHTS ABOUT ZOMBIE BABIES
Zombie babies will forever haunt my dreams.
(Deanna "Sasquatch" Pan)


Based on the order of events, we assume baby Z was infected during the scene where one of our human heroes fights off another perfectly-timed zombie-after-zombie filing into the room. There on the floor sits the baby (still human) in his carseat as zombies run around dying everywhere. It's important to note the age of this infant is pre-walking stage. But when the baby tragically becomes infected, he suddenly has immediate abilities to walk, run, and zip all over the place like a freaky demon of nightmares. We all seemed too enthralled by its mere existence to care, but it seems
Z Nation
has no cut- and-dry rules when it comes to zombie behavior, and as a zombie-themed show that might bother you, too.
(Chey "Whiskers" Scott)

DANIEL WALTERS PROVIDES A SERIOUS LOOK AT THE SHOW, BECAUSE HE'S A REAL TV CRITIC
Here's the problem with
Z Nation
. It's not bad enough to be so-bad-it's-good, and not good enough to be so-good-it's-decent. In other words, you can't watch
Z Nation
in the same fun way you watch, say,
Sharknado
. There won't be crowds on Twitter hate-watching
Z Nation
, mocking every mockable moment.
That's not to say there aren't mockable moments. There are are a quite a few, if you're in a RiffTrax sort of mood, but overall, the essence of
Z Nation
isn't cheese. It's more derivative if anything, pumping out the darkness and dreariness of
Walking Dead
with none of the craft that makes that show occasionally tense and suspenseful. So when the corny moments do come – there's a zombie
Bride of Chucky
scene that's sublime – it's something of a relief.
While recognizable actors Harold Perrineau (the Michael that yells WAAAAAALT all the time on
Lost
) and DJ Qualls (the scrawny dude from
Road Trip
) do make appearances, both are miscast. Perrineau is a fine actor, but pretty much any of the other actors, including Qualls and the tiny infant, would be more believable as a badass Delta Force agent than Perrineau.
And Qualls just doesn't display the weirdness that his character needs. As an actor, he's capable of that weirdness. As a show,
Z Nation
is, too – it just needs a little more of it.
(Daniel "Don't Give Me a Nickname" Walters)

NOW MORE ZOMBIE BABY!