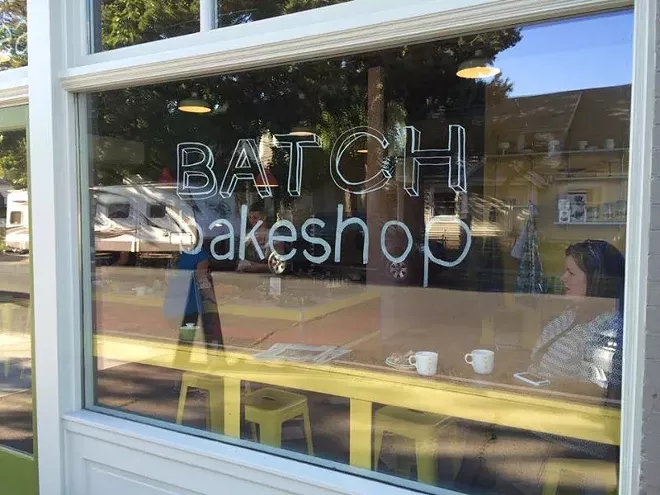 Batch Bakeshop opened for business in its new storefront in the West Central neighborhood last week. Owner and baking guru Mika Maloney has operated the small-batch venture since 2011, working out of a shared commercial kitchen before securing a permanent space. The move was in part made possible by a successful $15,000 Kickstarter campaign funded late last year.
The bakery is now located in a quaint, 1903 building at 2023 W. Dean that originally housed a butcher shop. Current business hours are Tues-Fri, from 7 am-4 pm. Don't worry — you can still find Batch's delicious goodies at the South Perry Thursday Market, the West Central Marketplace, local coffee shops, and also now in Sante's bakery case.
Speaking of baked yumminess and Sante, the opening date for Chef Jeremy Hansen's new bakery venture, Common Crumb Bakery, inside the yet-to-open Saranac Commons, sounds like it's close to debuting — sometime in October.
Sante's Chef Hansen is also getting ready to host another, four-course beer dinner in Riverfront Park, set for October's First Friday, the third. This time, the outdoor dinner experience is focused on fall beers and ingredients, and offers the option for reserved ($65/person) or first-come, open seating ($15-$25).
Even more good news to satisfy your sweet tooth. South Perry Cupcakes debuted its treat case inside The Shop this past weekend.
Vault Coffee in downtown Coeur d'Alene had its official, soft opening today. It's located in the old Java on Sherman spot, at 324 W. Sherman Ave., in a historic building that once housed the Exchange National Bank. The new cafe serves DOMA Coffee and is open daily, from 6 am-6 pm.
When we broke the news two weeks ago that Dawn of the Donut was going to close, readers freaked out. Since then, a new owner has stepped in to take over the business, and the North Spokane zombie-themed shop is already implementing changes under its new owners, including some decor changes.
In Post Falls, Stateline Subs and Pizza recently opened, offering a make-your-own pizza bar.
Fall beer season is upon us. Next weekend hosts the Washington Beer Commission's annual Inland NW Craft Beer Festival, Sept. 26-27, and Oktoberfest celebrations are already happening around the region. Find out more about those in this week's Entree newsletter, or check out our food event listings.
Spokane's South Hill saw the new Rio Grill Brazilian Steakhouse open last week.
This Sunday, Sept. 22, is the last day of seasonal operation for Manito Park's Park Bench Cafe (open from 9 am-5 pm) and Riverfront Park's Fountain Cafe (open from 11 am-5 pm).
Patit Creek Cellars has vastly expanded its offerings of wine's favorite complement: Cheese.
Looking for a new mode of transport to explore downtown Spokane's culinary offerings? The Spokane Party Trolley offers tours of lunchtime, winery, and dinner spots.
A new Grocery Outlet store in Spokane Valley, located at 12115 E. Sprague and the fourth in the Spokane area, is opening on Saturday, Sept. 20.
Nodland Cellars is getting ready to relocate to downtown Spokane, to the ground floor of the Chronicle Building at 926 W. Sprague. The new tasting room is planned to include a jazz club and restaurant.
Next week marks the last operating days of the season for several area farmers markets: Cheney, Coeur d'Alene, Big Red Barn (Davenport), Clayton, Millwood and Ritter's. Find their hours and a list of other regional markets here.
Read previous food news here. Find food events here. Sign up for the Entree newsletter here.