Some of the "hidden gems" throughout Spokane's 27 neighborhoods are well known by residents, but there's a lot about these places, and other parts of town, that are lesser known even to people who've lived here for all or much of their lives.
Through a new initiative launched yesterday called Shaping Spokane (shapingspokane.org), the city wants to know what we think are the best assets of our 'hoods. This information submitted by the public about where we live, work, and recreate is to be used for city planning over the next two decades relating to land use, transportation, economic development and other public projects.
In other words, why should the city or anyone else invest in your 'hood?
Citizens can give their input several ways — online, via email or by filling out a physical booklet. Once the public submission period closes at the end of October, city staff will sort through comments and summarize each neighborhood's profile, then passing along that information to neighborhood councils to proofread and finalize.
Already, little color-coded icons are popping up on the Shaping Spokane interactive map. One user in the Emerson-Garfield neighborhood submitted a comment lauding Corbin Park for its historic value and modern amenities as a public gathering space. In the Chief Garry Park neighborhood, a user added an icon to share a local "pocket park," calling it a "great place off the beaten path for kids to enjoy safe fun."
Users can highlight places and stories by tagging them on the map with color-coded icons, representing locations as "hidden gems," "defining features," "favorite destinations," "what you love" about Spokane and other reasons a place is special.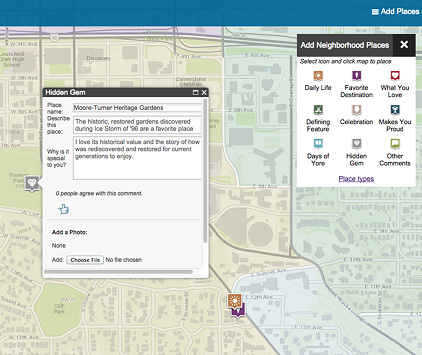 We tested out the interactive map and it's fairly simple to submit your nominations. After selecting the icon you want to use to highlight a place, click on a spot on the map to place it. There's also a built-in search function if you don't feel like guessing or scrolling around the map to find a specific location. However, we immediately noticed that the newer streets of Kendall Yards aren't in this mapping system after a search for the Inlander office's address took us to somewhere in South Carolina.
After your icon has been placed, type what you want to share about that location in the text boxes provided. To save the pin, simply close the pop-up box using the "X" in the upper right. This was a little confusing at first because the pop-up includes a delete and a photo-upload option, but no "save" button.
The Shaping Spokane site also includes a feature called "My Neighborhood Story" for users to submit narrative responses to prompts about their neighborhood, as well as a list of neighborhood-specific discussion threads.
Not sure what official neighborhood you live or work in? The map blocks out each official neighborhoods' boundaries, and to see a list of all 27 Spokane 'hoods, visit the discussion page mentioned above.