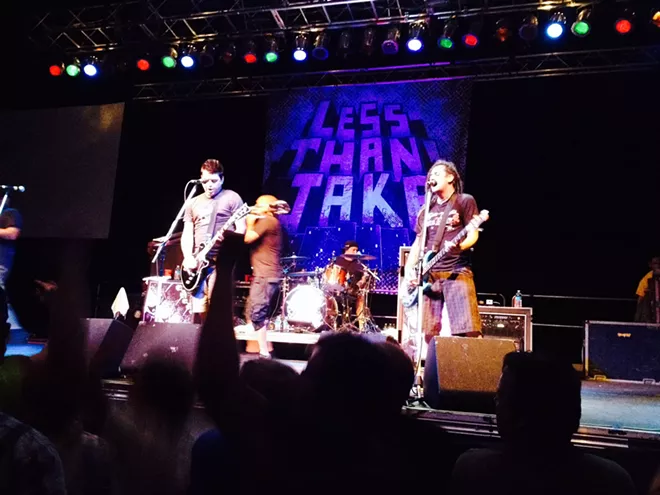 I'd forgotten about the smell of punk rock. The sweat, the spilled beer and always just a hint of vomit. The scent of a mosh pit is distinct and I recognized it the moment I unexpectedly charged onto the floor of the Knitting Factory Tuesday night when Less Than Jake hit the stage.
I don't go to concerts with mosh pits these days, but there was a time when I was all about it and
mostly because of Less Than Jake
, which held the distinction of being my second favorite band from 2000 to sometime in 2004 when indie rock took over my brain. But after a decade away from the bombastic Gainesville, Florida, punk-ska quintet, I figured I should check in on them and remember the glory days. I was not let down.
Because I'm too old to sit in a rock club for three opening acts, I rolled into the Knitting Factory for half a set from
Big D and the Kid's Table,
a Boston-based ska act that's been around since 1995, but has seen its lineup almost fully revamped with the exception of front man David McWane. Their tunes were bouncy and provided ample dancing material for the still-straggling in crowd.
After a couple of Hamms (yes, the Knitting Factory serves Hamms in a can) with some hardcore LTJ fans, the band raised their banner and sprinted onto the stage, as they are wont to do, and ripped through some classic tunes,
including "Automatic,"
perhaps my all-time favorite LTJ song. That's when I got up front and spent the next hour-plus exchanging sweat with the singing-along-to-every-word devotees.
Around this time, bassist/vocalist Roger Lima spotted The Tambourine Man and said, "Holy shit, check out this guy's vest!" and brought the omnipresent concertgoer onstage to show off that vest, which appeared to be made from Snuffaluffagus fur. Evidence below.
The guys looked fresh, with this being the first show of a Northwest and Canadian tour, and ripped through their 20-plus-year catalog full of poppy punk numbers infused with blazing horns. For guys all at 40 or very close to it, the dudes still bound across the stage with aplomb and guitarist/vocalist Chris Demakes has not lost his penchant for rattling off ridiculous jokes.
By the time they dished out "
All My Best Friends are Metalheads,
" confetti cannons had gone off and the two-thirds-full floor was in a sweaty frenzy. Like, really, really sweaty. Still, that didn't stop folks from going straight nuts for the band's inspirational anthem "Look What Happened." Here's some video a dude shot and posted to Youtube this morning. You see me? I'm the guy jumping up and down.
The show wrapped up and fans poured into the lobby, lining up at the merch booth to shake hands with the band and buy hats and shirts and things like that. I headed out into the warm night, feeling 21 again and smelling like the devil.