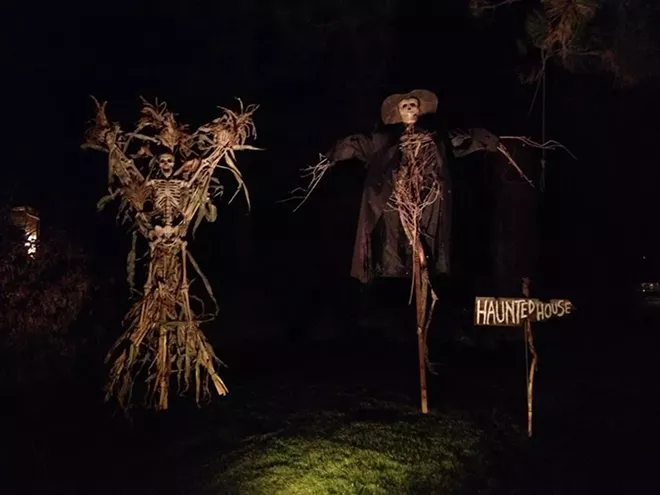 As you finish the details of your epic costume ensemble and stock up on goodies to give away to eager children at your door next Friday night, don't overlook the sheer number and of local haunted house events for all ages happening this weekend and next. Pretty soon, if not already, we'll start seeing Christmas decorations and holiday sale commercials on TV, so enjoy the spooky season while it lasts...

KING FAMILY HAUNTED HOUSE | An annual tradition for this Halloween-loving Spokane family, their haunted house opens this weekend and runs throughout next week. It's rated PG-13, and entry is free, though donations are always gladly accepted. Open Oct. 24-30, from 7-9 pm each night. Located at 15604 N. Freya. facebook.com/thekingfamilyhauntedhouse

WEST VALLEY CITY SCHOOL HAUNTED HOUSE | The school hosts its 6th annual haunted house event in its 100-year-old building. Proceeds support school programs and field trips. Recommended for ages 11 and up. Open Oct. 24-25, from 6:30-10 pm. $5/person. Located at 8920 E. Valleyway Ave.
VALLEY MISSION HAUNTED POOL | The City of Spokane Valley puts a fun spin on the traditional haunted house, transforming the pool deck and the locker rooms of the pool into a spooky setting. It's geared toward kids ages 12 and up. Oct. 24-25, from 7:30-10 pm. $3/person, or $2 with a canned food donation to benefit Second Harvest. Located at 11123 E. Mission Ave.
POST FALLS LIONS HAUNTED HOUSE | This annually organized event always offers new features each year. Proceeds support the Lions' mission of providing scholarships and financial assistance through its sight and hearing programs. Open Oct. 24-31; Fri-Sat, from 6 pm to midnight and Sun-Thur, from 6-10 pm. Admission is $7/person, or $5 with two non-perishable food items. Located at Fourth and Post, in Post Falls, Idaho. tinyurl.com/kly5dvv
THE HOLLOW HAUNTED HOUSE | This marks the second year this locally created haunted house is open to the public. Open Oct. 31, from 7-11 pm. Admission is a non-perishable food donation to Second Harvest. Located at 1927 W. Carlisle Ave. facebook.com/thehollowhauntedhouse
SCARYWOOD | North Idaho's Silverwood Theme Park goes all out for Halloween each year, transforming the otherwise cheery park into a freaky, scream-inducing site of terror. It's open on Thursdays from 6-11:30 pm; Fri-Sat from 7 pm-1 am, except Halloween weekend, (Oct. 31 and Nov. 1) hours are from 7 pm-midnight. Admission ranges from $21-$40. scarywoodhaunt.com
RIVERSIDE STATE PARK ZOMBIE HIKE | Though not a traditional haunted house, this annual event is equally creepy as the undead take to the nighttime forest during a half-mile hike. The one-night event is on Sat, Oct. 25, from 6-9 pm. Admission is $10/adults and $5/kids ages 3-12, which includes one flashlight per group and glow sticks for the kids. No Discover Pass is required. Located at 7903 W. Missoula Rd., Nine Mile Falls.
CREEPY HALLOW | The grounds of the Northwest Renaissance Faire also take on a scarier atmosphere for several nights of the Halloween season, now for the 12th year. Open Oct. 24-25 and Oct. 31, from 7 pm-midnight. Admission is $5/person. Located at 6493 Hwy. 291, Nine Mile Falls. creepyhallow.net
GHOULS & GAMES HAUNTED HOUSE | A locally organized Halloween-night event, including a kid-friendly haunted house, games, a dance party and prizes, as well as live music. Oct. 31, from 6-9 pm. Free admission, or $15/family of four for an all-access event pass. Located at 11420 E. Sprague. the5ifthelement.com