Monday Morning Placekicker is here to get you up to speed on the weekend's sports so you can chat it up with your co-workers, friends and/or in-laws. And in terms of football, it's hard to get much better for Eastern Washington than the weekend we just enjoyed, so folks are likely to be talking it up.
An
Eastern Washington win
over rival Montana? Check.
WSU Cougars
avoid Cougin' it
on the road and beat Oregon State? Check.
UW loses to UCLA
, leaving the Huskies just one game ahead of WSU in the standings three weeks from the Apple Cup? Yup.
Seattle Seahawks finally looking a bit more like the Super Bowl champs they are and
putting a beat down on the New York Giants
? You bet.
Let's break it down.
EAGLES SOARING IN BIG SKY
All-everything quarterback Vernon Adams, Jr., returned from injury to lead Eastern Washington to a huge win over the Montana Grizzlies. The dude was gone four games with a broken foot, and all he did in his comeback game was throw for 410 yards and four touchdowns. Here are
a bunch of photos from the game
.
What's the win mean in the big picture? Eastern sits atop the Big Sky standings with a few other one-loss teams. After a bye this coming week, they finish the conference season with a game against Portland State. More importantly, it keeps them ranked No. 5 nationally, setting them up nicely for the FCS playoffs starting the weekend after Thanksgiving.
Full disclosure: This blog is being written by a Montana alum and Griz fan, so you'll understand my lack of superlatives and exclamation points while discussing the beat-down the Eagles put on my beloved Grizzlies. The red turf on the Eagles home field always makes me queasy, never more so than on Saturday as I hit
Poole's Public House
on the north side of town to join a bunch of fellow Griz fans to watch the game.
Why Poole's? Easy — the joint is owned by the parents of injured Griz player Trevor Poole, a one-time Washington All-State player at Ferris High School. Even being the parents of a Griz player, they were nice enough to let Eagles fans in, too, on Saturday, and those fans got to watch the Eagles' onslaught of big plays and cheer while those of us in Montana gear groaned. Thankfully, the $2 Moose Drool specials — Moose Drool being one of Missoula's finest quaffs — helped the losing go down a little easier.
COUGARS BECOME ROAD WARRIORS
Given the way the season has gone so far for WSU — a lot of losses, most significantly the season-ending injury to Connor Halliday — you'll be forgiven for expecting the Cougars to flail their way toward the end of the season.
But after seeing them fight from behind Oregon State on Saturday, then hold on for a tough Pac-12 road win, at least the Cougar fans can start looking toward the 2015 season with some hope. Maybe even anticipate that showdown with UW later this month. And you can go ahead and start rooting for the new QB, Luke Falk, who set some
first-start records yards and TDs
for the Cougs on Saturday. Take a look, folks, this guy is your future — at least for the time being: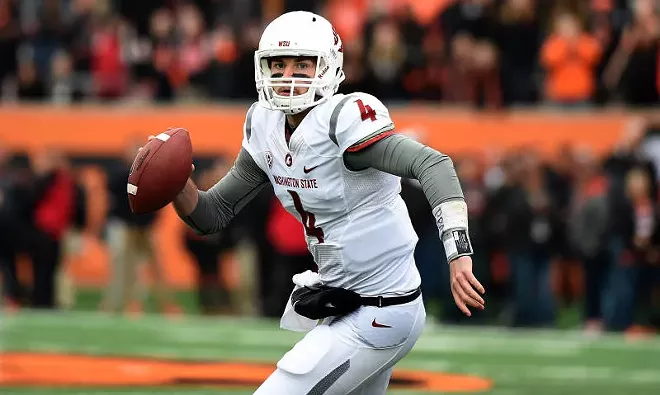 ALL IS WELL IN SEATTLE

No doubt some of you serious Seahawks fans have been stressing out this year as the team deals with its Super Bowl hangover. They haven't looked great up to the halfway point of the season, but Sunday, they took apart the Giants when Marshawn Lynch
went full Beast Mode
in the fourth quarter, and Michael Bennett did a Ravishing Rick Rude dance all over Eli Manning after a sack —
Deadspin has the video
.
AND IN IDAHO...
The
Vandals lost
. Again. The less said the better.
COMING UP
Monday Night Football
tonight has the Philadelphia Eagles facing the Carolina Panthers — and I almost fell asleep while writing that sentence. Philly has a good record, but starting QB Nick Foles is out and Mark Sanchez is starting. Carolina is just not very good this year.
On Friday,
Gonzaga has its first real basketball
game against Sacramento State. It'll be shown on KHQ and ROOT Sports at 6 pm.