BEHIND THE COVER:
This week's holiday-inspired cover comes from local artist
Tiffany Patterson
. We asked her what she loves about Christmas time: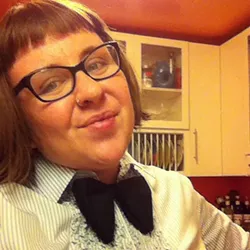 "The holidays held so much magic for me as a child. It seemed fitting to imagine all the wonderful events this season being witnessed through the eyes of a little girl. I grew up in a Weimaraner family, but through truly lovely friends have come to know the charm of Pugs. Christmas sweaters and snorting tiny dogs seemed to go wonderfully with drooling over candied covered houses and enthusiastically hurling yourself down fluffy snow covered mountains."