You'll be forgiven if you didn't keep up on the weekend's sports given you have new toys to play with and family in town. But we can help get you up to speed, as we do every Monday. Let's do this:
AND YOUR 2015 SUPER BOWL CHAMPS ARE...

Is there any reason at this point to doubt the Seattle Seahawks will repeat as the NFL champs? Even if you were a little nervous at halftime Sunday, with the Seahawks down 6-0 to a tough defensive team in the St. Louis Rams, the 'hawks squashed any concerns in the second half,
reeling off 20 straight points
to win the division title, finish the season 12-4 (after being 3-3 at one point) and secure home field advantage all the way through the NFC playoffs.
Sure, the offense isn't dominating — until it has to be, and that's when Russell Wilson and Beast Mode take over. And the defense is rolling in the same way it was last year, just stone-cold crushing every offense in its path. Need some evidence? Check out this ninja shit Earl Thomas pulled to save a touchdown Sunday:
The teams with the best chance to MAYBE cause the Seahawks some problems are the Packers (who have
a gimpy Aaron Rodgers
), and the Cowboys (who would face the Revenge Factor in Seattle after handing the Seahawks their only home loss of the season). I wouldn't bet on either of those teams being able to handle the 12th Man.
In other words, go ahead and start planning your Super Bowl parties now, the Seahawks are going to be playing on Feb. 1.
ZAGS LIGHT UP BYU IN CONFERENCE OPENER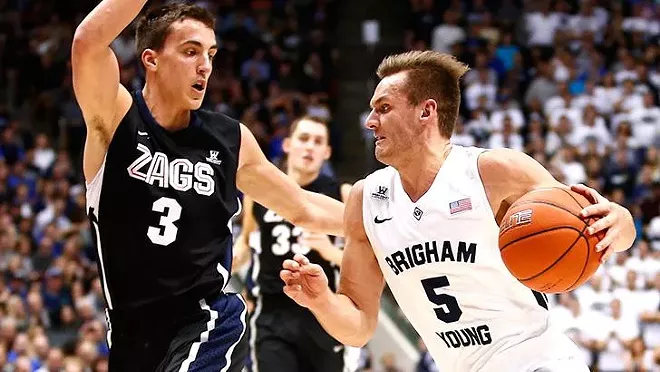 Granted, the 87-80 final doesn't exactly look like the Bulldogs "lit up" BYU, and there were moments when Gonzaga definitely lost the momentum on Saturday afternoon, but considering the Zags were playing in front of 20,000 opposing fans (plus a high-scoring BYU team),
running up 87 points in a hostile environment
is a pretty great way to open conference play.
Among all the running and gunning (and utter lack of D for the most part) there were a lot of things to thrill Zags fans. Kyle Wiltjer dropped 24 points. Kevin Pangos looked like the player who got all that preseason hype, hitting five 3-pointers and totalling 21 points and five assists. Whenever it seemed BYU might take control of the game from Gonzaga, Byron Wesley hit a big shot, ending up with 15 points and 10 rebounds. Gonzaga's depth was clear in what could be the toughest road test of the season. They passed it, no problem.
Gonzaga is at
No. 7 in the latest poll
, ahead of the Arizona team that gave them their only loss (good reason not to pay TOO much attention to polls, Zags fans). They play at San Diego tonight at 8 pm.
ALL HAIL STONY BROOK
With WSU facing what is most likely going to be a long season, perhaps Cougar fans can take some enjoyment from the disaster in Seattle Sunday night, when the undefeated UW
Huskies lost to a school 99 percent of us wouldn't be able to find on a map
—even if I told you Stony Brook is on Long Island in New York. And hey,
WSU won a game Sunday
against UC-Davis, too. Next up for WSU is the Pac 12 conference opener at Stanford on Friday.