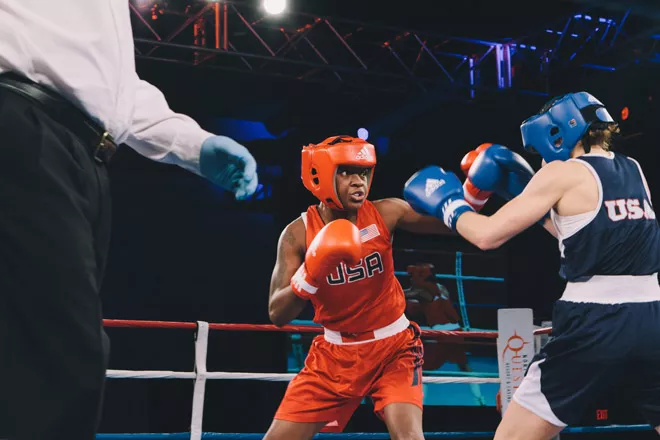 For someone who could easily kick my ass despite my being roughly twice her size,
Tiara Brown
doesn't look all that intimidating. It might be the smile, or the easy laugh when she talks.
She's an engaging personality, to be sure, and probably uses that to her advantage when she's pummeling foes in the boxing ring. Brown is a featherweight who won a world championship in 2012 and followed up with a USA national championship in 2014 right here in Spokane. Brown ended the year with a bronze finish at the 2014 world championships, her strength sapped by an illness that hit in Korea just as the tournament started. Bronze is great for some, but not for someone defending the title and aiming for the Olympics. "I was so disappointed," Brown said during a visit to the
Inlander
office, "because when I'm not, I'm on it."
She'll look to be on it this week at the
USA Boxing National Championships
, fighting in preliminary rounds at The Hub in Liberty Lake before most likely reaching the semi-finals and finals at Northern Quest Resort and Casino Friday and Saturday.
During her visit to
Inlander
central, Brown agreed to answer some questions — all of them inspired by a
Rocky
marathon I watched days before we met:
Inlander: Have you ever eaten raw eggs for training?
Brown: Ewwww! No! I've thought of doing that to see what it's like, but I can't stomach it. The first thing I think is , I might get salmonella. If there's a chance I met get it, uh-uh.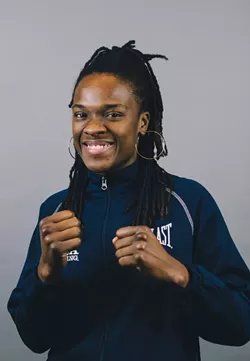 Have you ever chased a chicken around to get your speed up?
Check this out! When I went home (Ft. Myers, Florida) for Christmas, I actually did chase a chicken! But it wasn't for training or anything like that. The chicken got loose from its den and it found its way down the block from this lady's house. Me and my cousin were walking and heard "cockle-doodle-doo!" And this lady asked us to get him. I didn't catch it! He ran away and I was like, "I can't catch this chicken!"
To train for fighting Ivan Drago (in Rocky IV), Rocky runs up a mountain and throws logs around. What's the most extreme thing you've done for endurance?
We have this drill in our gym called the playstation. We take a treadmill and put it on the highest incline. Then we take this water weight and put in on our back, and we have to climb up that treadmill for three minutes straight. And there are different stations we do for an hour straight with no break. Then we go to the next treadmill and it will be cranked to like 13 mph with no incline. Then there's the dip machine. All of them for three minutes, with no break. My favorite thing is the tire. We flip that thing every day.
Own any pets like Rocky's turtles or his dog Butkus?
I have a greyhound. She's down at home with my mom. That's my baby. She's 10 and still thinks she's a little puppy. She's so lazy. When the doorbell rings, I'm looking for a bark. Nope. Freedom Brown is her name
If you could have any musician perform in the ring before you fight, ala James Brown in Rocky IV, who would it be?
Right now I'm on this new band The Script, I'm really digging them. My favorite band is the Kings of Leon. I love watching them on YouTube. They give it all.
When you've been out training, have you ever had a bunch of kids start following you or running with you?
Yeah. In the summer I'm actually in charge of a summer camp for boxing. Our boxing gym is attached to a rec center, and when I start running with our kids, the kids next door come out and want to run a lap with us. I'll be doing like four miles, and to have the little babies come out and run with me, that's fun.
Have you ever become friends with someone you've beaten in the ring, an old foe?
Sofya (Ochigava), she's No. 2 in entire world, won silver in the Olympics back when I went up to 132 in 2010 to go to the Olympics. I fought her. She's from Russia. When she fought everyone else, she wanted to destroy them. But when me and her fought, she wasn't like that. We 've been friends ever since 2010. We Skype every other weekend. Facebook. Instagram. The friends I've made. I never imagined.
The USA Boxing National Championships host the semi-finals on Friday and finals on Saturday at
Northern Quest Resort & Casino
in Airway Heights.