Let's face it, the week between the end of the NFL playoffs and the Super Bowl is always brutally dull, as the withdrawal for football fans gets its start before we even get to enjoy that last game. Sure, there was that utterly meaningless and
impossible-to watch-Pro Bowl
Sunday night, but for the most part, it's better to focus on hoops. That's what we did here at Monday Morning Placekicker, our weekly crash course to get you up to speed on the weekend's sports happening.
ALL HAIL THE EAGLES!
The MMPK team dropped by Cheney on Saturday to witness the Eastern Washington Eagles take on North Dakota. It was my first trip to Reese Court, and I can't lie — I was mostly there just to see the nation's leading scorer, Tyler Harvey, do his thing.
Read all about Harvey's journey
to ass-kicking point machine in our current issue.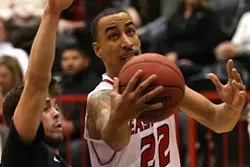 Harvey got his, dropping 26 points, but they were a pretty quiet 26. The team, though, was loud as hell in overcoming a 41-35 halftime deficit by dropping bombs from all over the damn gym in the second half, to the tune of 67 points. 67 points! In a half! NBA teams don't even do that anymore, and their halves are 20 percent longer than college ball! The final score was 102-80, and fans should really get a free chalupa at Taco Bell or something when a college team goes over 100.
The team shot 74 percent in the second half, which is utterly insane, and were led by a freshman named Bogdan Bliznyuk, who had a career-high 25 points on 8-for-16 shooting—and he missed about five lay-ups and short shots in the first half. He was 6-for-7 from the line, had 7 boards, and basically made us all forget that Eastern was missing Venky Jois, arguably their second-best player.
Three
Big Sky teams are packed at the top
of the standings with one loss: EWU, Sacramento St. and Montana. Eastern's next game is Saturday against Idaho.
ZAGS STILL CRUISING
Gonzaga ripped through its two home games last week, first
pummeling St. Mary's
in a matchup of the conference's two top teams on Thursday. Then on Saturday, they
took down Pacific
in short order, rolling out to an 18-point halftime lead before ultimately winning by 31, 91-60. It was a thoroughly dominating, and pretty boring to watch other than the fact Kevin Pangos tied the GU record for lifetime three-pointers, and had a couple of shots to break it before getting pulled from the game. He'll get to break the record at home when the Zags play Portland on Thursday night.
The Gonzaga women's team also kept their roll going strong, seeing their own win streak reach 10 with
a win at Pacific
on Saturday.
COUGS' TOUGH ROADIE
Earlier this month, we were pleasantly surprised by the unexpected success of the WSU men's team, ripping off three wins in a row against Cal, Washington and Oregon. Um, never mind. After
Saturday's loss at Colorado
, the Cougars have now lost three straight — none of them by less than 15 points. Hoo boy. The team is
now in 9th place
in the Pac 12.
OKAY, OKAY, DEFLATEGATE!
This stupid "scandal" involving the Patriots footballs is nothing more than proof that we need to get rid of the bye week between the conference championship games and the Super Bowl. But at least it inspired this: