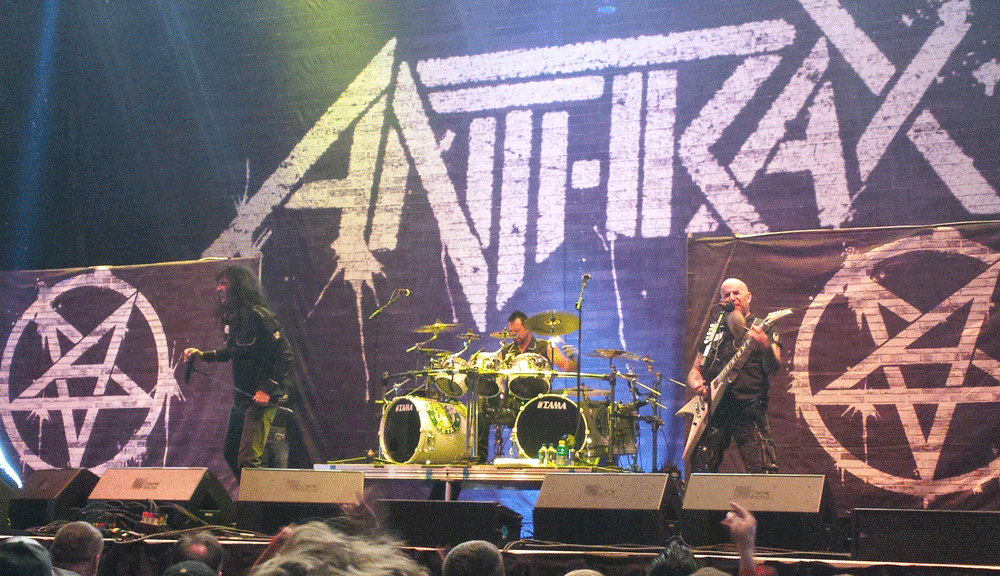 Some styles of music understandably traverse decades with no problem. Performers who sit behind a piano or gently strum an acoustic guitar don't put a lot of wear and tear on their bodies.
How the thrash-metal dudes in
Anthrax
— all in their 50s, save for the new lead guitarist — are still doing what they do on stage more than three decades after their debut album
Fistful of Metal
is totally beyond me. I'm sore just from some moderate headbanging and air-guitar "played" while watching their show.
Monday at Spokane Arena, Anthrax held the middle slot of a bill opened by Crobot and headlined by Volbeat, and they took the fans on a ride through their history, one that included a mosh pit for every song. They reached back to their 1985 album
Spreading The Disease
for "Madhouse," and hit hard on their
Among the Living
album for show-opener "Caught in a Mosh" as well as the set-ending salvo of "I Am the Law" and "Indians."
Throughout, the band was as frisky on stage as in their younger days. Guitarist Scott Ian, the most recognizable member of the band for non-fans, raced around and threw up his "devil horns" toward appreciative fans in front after every song. Bassist Frank Bello crouched so low his bass nearly scraped the ground as he plucked his strings and sang backup. New lead guitarist Jon Donais was comfortable settling in and ripping out stinging solos among the musicians a good 15 years or so older. Anthrax drummer Charlie Benante had to
sit out the first few weeks on the tour
due to some Carpal Tunnel Syndrome issues, but his temporary replacement Jon Dette more than ably replicated Benante's dexterity as he drove the band forward. And out front, the on-again, off-again, now-on-again lead singer Joey Belladonna spent his time exhorting the crowd to pump their fists and sing along to the anthems that made Anthrax one of the "Big Four" of thrash bands, along with Metallica, Megadeth and Slayer.
The highlights for me were the band's Joe Jackson cover, "Got the Time," and a monstrous take on "Antisocial" that had even those on hand for Volbeat singing along and throwing their horns to the sky of the half-filled arena.
It was an hour-long blast of high-energy fun, and the band sounded good in the cavernous space. And I don't know about the guys in the band, but today I could use a massage.
Correction: This post has been updated since it was originally posted.