Forgive us for the lack of new cat-filled posts — sometimes the cat culture news is slow. This week, however, we're here to introduce a particularly pissed off cat who's emerged as the next big Internet star (back off, Grumpy Cat) and a Washington-state native who's also reached celebri-cat status.
While the Grumpy Cat's retail empire has become ubiquitous from the mall to the grocery store, there's a new cat on the scene whose icy glare is even more menacing and filled with disdain. Last month, a Salt Lake City feline by the name of Albert — better known as "Pompous" Albert — surfaced on the 'Net and has since racked up more than 58,000 followers on Instagram. Here's the reason why: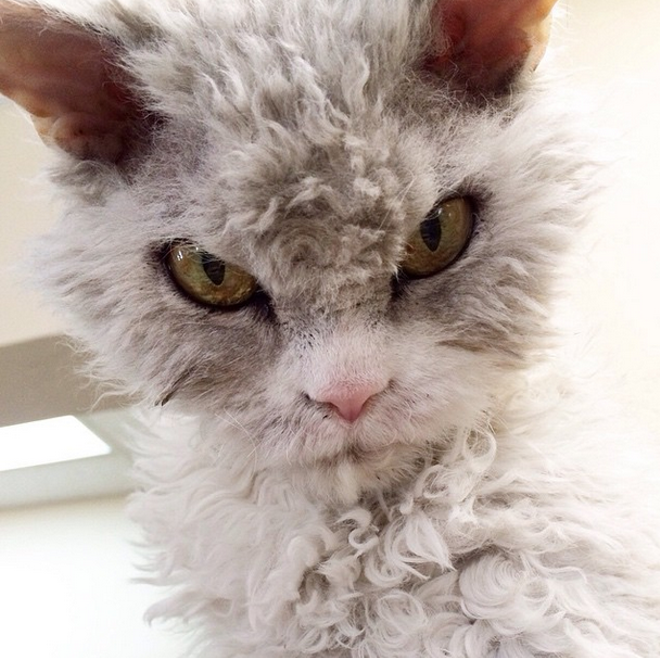 Albert is of the curly-haired Selkirk Rex breed, and his owners say he was a "rejected" show cat. Obviously, though, not being active in the cat show circuit looks to be Albert's gain. He's named after the famously white- and wild-haired physicist Albert Einstein, and spends his days judging the inferiority of humans at the art gallery where he resides as office overlord.
Meanwhile, a former ward of the Seattle Persian and Himalayan Rescue — the same group responsible for rehabilitating and rehoming the late, great Colonel Meow — has taken the title of "America's Next Cat Star."
Brimley, a snowy white Persian, received the honors earlier this month when he took top votes for the silly yet serious Animal Planet "reality" contest that reflects the world's growing fascination and acceptance of cats as pop-culture celebrities.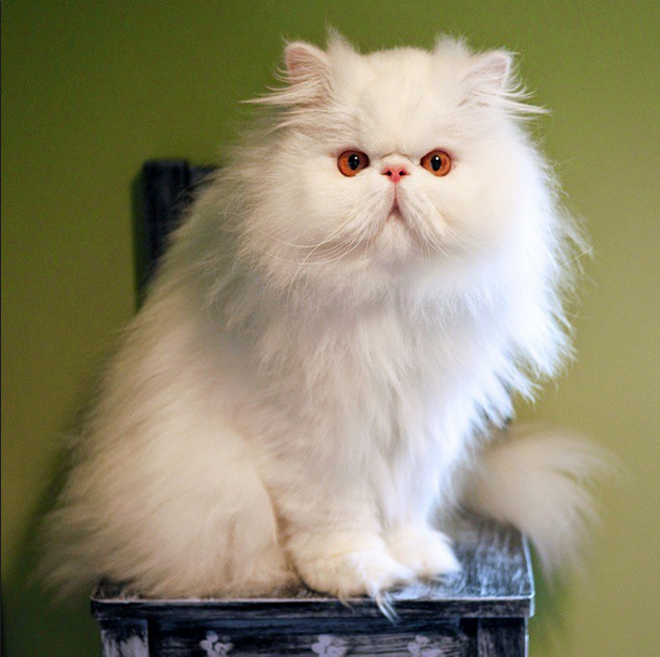 The Tukwila, Washington-based cat had quite the rough start in life, which no doubt won over audiences and judges of the contest. Rescued from a breeder who'd more than given up on him, Brimley nearly lost his eyes before Seattle Persian took him under its care and nursed him back to health. He was adopted by a doting cat dad, RJ LaCount, and is living a much-deserved life of luxury, with all the belly rubs, vacuum grooming sessions (yes, really) and tasty treats he could ever dream of. You bet right if you guessed his namesake is the one and only Wilford Brimley.