Much of the
recent news about local NAACP President Rachel Dolezal
was sparked by the news that a letter allegedly dropped in the NAACP's P.O. box had no postal date stamp or barcode,
raising questions
about whether the letter had been delivered to the P.O. box at all. Forensics did reveal some unidentifiable male DNA on the letter, but as of yesterday, the Spokane police suspended the case pending further investigation.
The intent of the original letter is unclear. Though investigated as a threat, the package does not mention Dolezal directly, police note, other than including a copy of an
Inlander
blog on Dolezal's reaction to a "Shorty Can't Breath Either" sign at a local business.
There are no direct threats against her, the police report says.
One page does contain photographs of old lynchings, apparently drawn from a website of historical lynching photography called
Without Sanctuary
, along with references to the
Zebra killings
.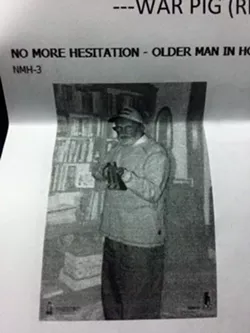 "Dolezal did admit that these photographs appear to be the same ones that she uses in her presentations when discussing the history of racism," the detective states in the report. Dolezal believed the anonymous sender may have trailed her.
Another is a picture conveying anger about the death of Shorty Belton that we wrote about
here.
And there's a photo of the black
male mugshots
police used for target practice in Florida with the handwritten comment, "Hey man, nice shot." Other pictures of people holding a gun to the camera, appear to be drawn from shooting targets in the controversial "No Hesitation" series, which used cutouts of non-traditional targets, like pregnant women, to train police. The targets were
in the news
around the same time the letter was sent.
But much of the content of the nine double-sided pages were just plain random or incoherent, with topics ranging from Eric Holder, to the New World Order, "American Sniper" Chris Kyle, to a refinery accident in Richmond, California. One page, the police report says, has an angry typed note complaining about deputies receiving pay increases at Contra Costa County while the military receives cutbacks.
Then on May 6, Dolezal received a second letter — this one was an apology. A person claiming to be "War Pig" sent a letter to Dolezal at two separate addresses, and one to Shawn Vestal with the
Spokesman-Review
. This one
is
postmarked with a date stamp, from Oakland, Calif.
KREM 2 represents the letter as
"another threatening letter
."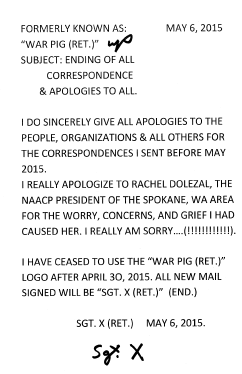 In fact, it was anything but.
Titled "ending of all correspondence and apologies to all" it says:
I do sincerely give all apologies to the people, organizations & all others for the correspondences I sent before May 2015. I really apologize to Rachel Dolezal, the NAACP President of the Spokane, WA area for the worry, concerns, and grief I have caused her. I really am sorry… (!!!!!!!!)
I have ceased to use the War Pig (Ret.) logo after April 30, 2015. All new mail will be signed "Sgt. X" (Ret.) end.
The rest of the letter consisted of signed printouts of a website profile about a sheriff commander, a Shawn Vestal column and
Spokesman
article about a march in support of Dolezal. There are no photocopies of lynching or any other hate crimes in it.
Even after this letter, however, Dolezal posted on Facebook that the "War Pigs, the group that has been sending death threats to [her] and possibly involved in home invasion and other security breaches at [her] residence" are known "as a biker club to outsiders and as a 'viciously violent hate group that rides motorcycles' to people in the inside of the street-know."
KREM says neither the police nor civil rights groups have heard of the "War Pigs." The "War Pigs" does appear to be a motorcycle club, but located in Singapore, the UAE, and Japan, not in the United States.
As for the "home invasion," the police report of an incident in April made it sound far from threatening or violent.
In April, a man and a woman walked into Dolezal's house while she was testifying at City Hall. On Facebook that day she wrote: "I'm furious. Furious. Two white adults broke into my home while I was testifying at City Council tonight. Scared my 13 year old son to death. So glad he's unharmed. Another police report... Reviewing surveillance footage. This is scary."
But her son specifically told police that he wasn't worried, that the couple seemed unsure of the address, and that the couple had entered through an unlocked side-door to the kitchen.
"The male asked [Dolezal's son] if anyone had recently moved in and that he was there to take care of a dog for someone. [Dolezal's son] said the male was not confrontational or threatening in anyway, rather he seemed confused," the police report reads.
Dolezal's son also said he didn't dial 911 and that "No, I wasn't scared at all. They looked confused. They looked like normal, middle class white people. They never threatened me. They looked like average people."
In fact, before leaving, the couple apologized for inadvertently letting the cat run outside when the couple opened the doors, and spent a few minutes trying to help retrieve the cat from a nearby yard before leaving. As with the incident at the Human Rights Education Institute in Coeur d'Alene, video surveillance appears to have malfunctioned, in this case cutting off before it could give much information. Dolezal said the system was
"new"
and she was not entirely sure how it worked.
But the police report does not make it sound like the work of a violent "War Pig" biker gang.