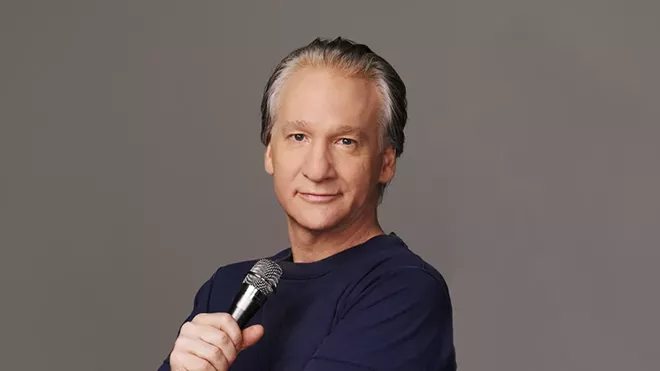 Considering his early and vocal encouragement of legalizing cannabis, it might be a little surprising that
Bill Maher
hasn't made it to Spokane lately, but that will change when the provocative comedian drops by the Martin Woldson Theater at The Fox on Oct. 17.
Probably best known as the host of HBO's
Real Time with Bill Maher
and the
controversially dismissed former host of Politically Incorrect
, Maher specializes in biting political humor when he takes the stage, and with combining
guest panels
on his talk show that inevitably, and often hilariously, clash. He's received 34 Emmy nominations for his talk shows, and three others for his standup specials. His 2008 feature-film documentary skewering religions around the world,
Religulous
, got some positive reviews. His feature-film debut,
D.C. Cab
, did not, but it did give Mr. T something to do after
Rocky III
.
Here's a recent monologue from
Real Time
:
Tickets for Maher go on sale Wednesday, July 15, at 10 am. Tickets are $69, $58, $49 and $39, and are available at the
Martin Woldson Theater website
or by calling 509-624-1200.