New documents reveal that Monique Cotton, a police spokeswoman who transferred out of the department under foggy circumstances, clashed with a police captain and lieutenant who complained that she didn't report damage to her city-owned car quickly enough and doctored a document regarding media responsibilities.
In May, Cotton was suddenly transferred to the parks department to handle communication duties. The administration of Mayor David Condon has
given shifting explanations for why Cotton was transferred
. Originally, City Administrator Theresa Sanders told the
Spokesman-Review
that Cotton was given a near $10,000 raise to take a non-union job in parks.
"It's mostly an enticement. I was bringing her into an uncertain environment," Sanders told the paper, noting earlier that Cotton is not protected by a
union
.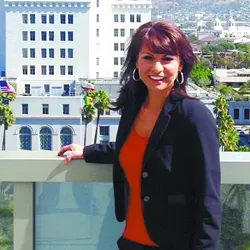 Last week, Condon acknowledged to the
Inlander
that the raise wasn't an enticement, but was part of a step increase and to compensate her for additional management and marketing duties. Sanders also told the
Spokesman-Review
that she was unaware of any issues between Cotton and police Chief Frank Straub,
who abruptly resigned last week
after the Lieutenants and Captains Association complained about his abrasive leadership style.
However, documents obtained by the
Inlander
through a public records request show that officers in the police force had raised issues concerning Cotton's integrity, which were later deemed unfounded by the city's Human Resources department.
"The complaints were fully investigated and determined to be baseless," Cotton told the
Inlander
via text message. "They are unfortunate symptoms of the unhealthy work dynamic of select members of SPD's senior leadership."
In February of last year, Lt. Dave McCabe, president of the Lieutenants and Captains Association, brought a complaint to the city's Human Resources department on behalf of Lt. Joe Walker and Capt. Dan Torok. The complaint alleged that Cotton has been "untruthful in official internal matters," falsified work-related records and engaged in work-related dishonesty.
The allegations centered on whether Cotton reported "very minor damage" to the driver's door of her city-owned car in a timely manner and falsified the precise date she reported the damage. Torok also alleged that Cotton had modified a document regarding the duties for officers assigned to media responsibilities. Specifically, Torok complained that Cotton modified when a public information officer or communications director would be expected to respond to a scene.
Both of the allegations were deemed unfounded by city HR. But the report notes that Torok brought up during the HR investigation that Cotton, or another public information officer, should have responded to a shooting incident in the Garland District that occurred in February of last year. The report states that Cotton had been in contact with a police captain and sent out media releases but had not been at the scene. Torok suggested, in the original complaint, that Cotton modified the media responsibilities document so that she wouldn't have to respond to incidents like the Garland District shooting.
"The investigator is concerned that this complaint of alleged policy violations concerning documentation was also used to express the opinion or disagreement of Capt. Torok that proper procedure was not followed during the [Garland District] incident," reads the HR report, which goes on to state, "It is overwhelmingly evident from the complaint document and witness statements that there are underlying issues between Lt. Walker, Capt. Torok and Ms. Cotton."
After the investigation concluded on March 6 of last year, McCabe sent a letter to HR expressing that the Spokane Police Lieutenants and Captains Association was "disappointed" with the investigation, noting a lack of witnesses interviewed and that no computer forensics had been utilized. McCabe also wrote that the department Internal Affairs Unit should have handled the investigation rather than HR.
The letter states that Walker explained to Heather Lowe, the city's HR director, "that concerns from him and others about Ms. Cotton's integrity had been brought to the Chief's attention last year, but it appeared that nothing had been done about them."
"Capt. Torok and Lt. Walker both expressed a concern to me that they may suffer retaliation as a result of making these complaints," reads the letter, which also notes that a commissioned police employee recently resigned after an internal investigation.
"We believe that the manner in which this case was handled establishes a double standard for employees accused of untruthfulness in their official capacity," reads the letter. "Commissioned and civilian employees in the past were investigated by Internal Affairs and disciplined for sustained allegations. Now, it appears that civilians or, at least civilian Directors, accused of the same allegations, will have their cases assigned to HR for investigation as a 'personnel matter' instead of being subject to SPD Policies and Procedures like the rest of the Department's employees."
Pick up a copy of this week's
Inlander
to read more about Chief Straub's forced resignation and what it means for Mayor David Condon.