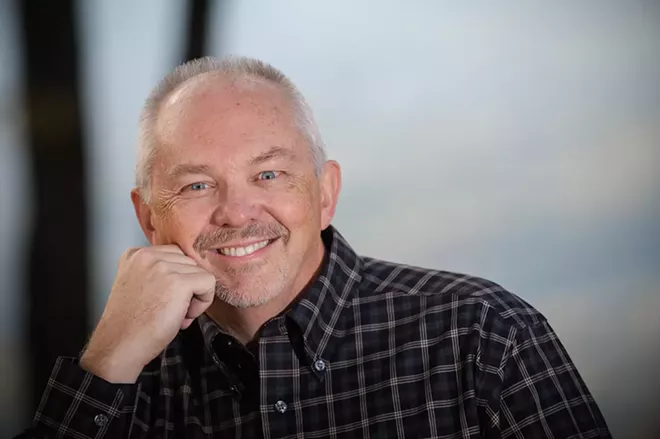 Before Canadian-born author William Paul Young published his first novel in 2011, he was living near Portland, Oregon, and working three different jobs. Now, four years later and a well-established writer, Young visits Spokane to discuss his newest novel, Eve, released in September.
While Young was raised by a Christian missionary family living amongst a primitive tribe in the former New Guinea, his novels reach far beyond a religious audience. The Shack, Young's first work, has sold over 22 million copies. The controversial yet absorbing piece of fiction shared a story of grief and loss, and further served as an invitation to readers into a more personal, non-religious understanding of God. Both The Shack and Young's 2012 novel Crossroads are New York Times bestsellers.
Eve is a vibrant investigation into the Creation narrative that challenges beliefs about our beginnings. The novel centers on John the Collector, who discovers a young woman washed ashore on an island — sick, battered, and barely surviving. While nursing her back to health, he discovers that she has a unique genetic makeup, connecting her to every single race. Through Eve, Young not only poses compelling questions regarding the equality of men and women by exploring our beginnings, but also aims to freshen our take on a familiar tale. Young questions, "Is it possible to craft a space for community and conversation free of the divisiveness of politics, or religion or ideology... a space for you to explore life, God, the world and what it is to be fully human?" Through his novels, Young seeks to create such a space.
Auntie's Bookstore hosts Young's reading at the Bing Crosby Theater, on Tuesday, Oct. 13, at 7 pm. Admission is a suggested $5 donation.