News from the Inland Northwest:
In hopes of reducing jail overcrowding, Spokane County officials
are considering building a new courtroom in the jail
that would allow inmates to process in and out more quickly.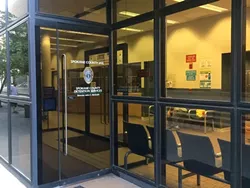 The
Coeur d'Alene Casino Resort Hotel will lose its liquor license
for 10 days as a result of the "excessive" dance moves by performers in the travelling show "Hunks." During the suspension guests can still drink, they just have to do it in their rooms.
Work by the Latah Trail Foundation, a group working toward a paved path from Moscow and Troy into Bear Creek Canyon,
could be challenged by residents worried that protocols to protect wildlife
aren't being followed.
The state of Washington
is forming a new panel to review claims made by ranchers who say they've experienced indirect loss because of wolves
. The state already pays claims to ranchers who've lost livestock to wolves. This new panel will evaluate losses such as reduced weight gain and low pregnancy rates among livestock caused by wolves.
A quick-thinking passerby may have
saved the lives of six people from a house fire
. Rick Trembley, a resident of the West Central neighborhood, saw flames in a house and pounded on the door, awaking the sleeping family inside.
News beyond the Inland Northwest:

The BBC has obtained a document showing that an attempt by the
United Nations to get member states to decriminalize drugs
has failed.
The U.S. House of Representatives will be be returning to work
with no clear path forward for a replacement for outgoing Speaker John Boehner.
However, according to
a report from CBS News
, quoting super-secret (but presumably reliable) anonymous sources, Rep. Paul Ryan says he's open to the job. Ryan is seen a figure able to unite the more conservative and moderate factions of the Republican Party. However, Ryan states that he will not haggle with the hard-right Freedom Caucus faction if he takes the job.
Canadian voters head to the polls
today to determine if Conservative Prime Minister Stephen Harper deserves a fourth term.
Presidential contender
Bernie Sanders plans on giving a "major speech" on democratic socialism
, his guiding political philosophy that has the potential to turn off more mainstream voters.
Speaking of Bernie Sanders, Larry David played the part he was born to play on
Saturday Night Live
this weekend by
doing an impersonation of the cranky, Vermont socialist
.