The week ahead has some excellent entertainment options, so let's take a look at some of the highlights. You can always peruse our
event listings
and
Staff Picks
to find something great to do. Here's what I found for the week ahead:
Monday, Oct. 19
VISUAL ARTS | Take a little trip back in time with a special
photo exhibit opening Monday
and running just through this week, taking a look at the development of Ft. George Wright, courtesy of the Mukogawa Ft. Wright Institute.
WORDS/FILM | Ron Hansen, award-winning author of the National Book Award for Fiction (among others), stops by Whitworth's Robinson Teaching Theatre in Weyerhauser Hall Monday night for a screening of
The Assissination of Jesse James by the Coward Robert Ford
, which was based on his book. The
free 6 pm screening
will be followed by a Q&A with Hansen. He'll also do a reading on Tuesday. The movie got a lot of great reviews when it came out; here's a look at the trailer (and did I mention, Brad Pitt!):

Tuesday, Oct. 20
LIVE BANDS |
Slipknot is the headliner of a Spokane Arena gig
, and with good reason — they've been thrilling their legions of Maggots for more than 15 years thanks to insane live shows. Read our preview/comparison of Slipknot to GWAR
right here
. For this guy, though, the presence of Suicidal Tendencies on the bill is the real reason to rejoice. The old L.A. skate punks have been thrashing since the early '80s, and their tune
"Institutionalized" is a punk classic
. Beartooth is also on the bill.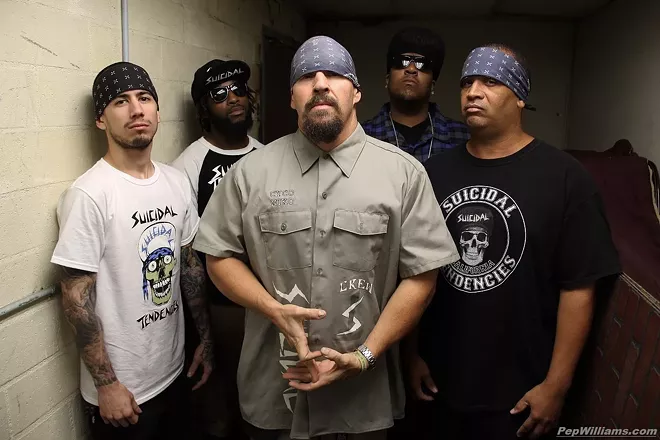 MUSIC EVENTS | A show of a considerably mellower vibe will be going down at the Bing, where
Howard Crosby will be paying tribute to his uncle
and the theater's namesake by delivering some of the crooner's classics.
Wednesday, Oct. 21
FILM | It's
Suds & Cinema
with the Inlander night! Get your pic taken with a real DeLorean! Win your own flux capacitor! And most importantly, settle in to watch
Back to the Future II
while sipping some tasty No-Li beer at the Bing.
Here's a look
at what the future-looking film got right and wrong.
LIVE BANDS | Canada's Viet Cong has decided to change their name, but hopefully they won't change anything about their snarling post-punk sound.
Read our story
about the band, then consider a
trip to The Bartlett to check them out
. Here's a little sample:

Thursday, Oct. 22
PERFORMANCE ARTS | Riverdance brings its 20th anniversary tour to Spokane for a
weekend full of shows
starting Thursday night at the INB Performing Arts Center.
LIVE BANDS |
Gregory Alan Isakov
has built a fervent following thanks to amazing live shows and a knack for crafting beautiful folk tunes. He's
headlining at The Bartlett
, joined by Laurie Shook of the Shook Twins opening up. Over at the Knitting Factory, a considerably more aggressive brand of rock is the order of the day as
Clutch, Corrosion of Conformity and The Shrine bring the noise
Thursday night.
Friday, Oct. 23
VISUAL ARTS | Take a little trip down the road for the second-ever Art on the Prairie event featuring all manner of cool arts and crafts.
It's happening at the Moran Prairie Grange
both Saturday and Sunday.
LIVE BANDS | If you've never seen Oregon blues-rock duo Hillstomp, you need to fix that, and
you can do so
at The Bartlett Friday night. And over at Chateau Rive,
Peter Rivera brings some otherworldly percussion
to the killer underground venue.
Saturday, Oct. 24
COMMUNITY | Looking for a way to help the community and spend a beautiful day outdoors? Perfect timing! It's
Reforest Spokane Day
on Saturday, and you can help plant trees along the Spokane River and in other areas in the event
organized by the Lands Council
.