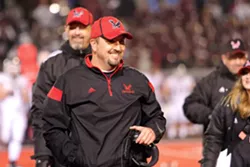 Beau Baldwin and the Eastern Washington Eagles look for a sixth consecutive victory, the surprising WSU Cougars continue their quest for a top 25 ranking, the University of Idaho Vandals hit the road to face an atrocious New Mexico State team, and the Whitworth Pirates take on Pacific at home after suffering their first loss of the season to second-ranked Linfield. Catch up on all the details with the
Halloween College Football Preview
.
Weber State Wildcats (4-4, 3-2 Big Sky) vs. #5 Eastern Washington Eagles (5-2, 4-0 Big Sky) 12:10 pm on ROOT Sports, Roos Field, Cheney, Washington

Coming off a dramatic, last-second victory against Northern Colorado on a Jordan Dascalo 44-yard field goal, the Eagles return home for
head coach Beau Baldwin's 100th game at EWU
. Since beginning the season 0-2, the Eagles have won five in a row and established themselves as the best passing offense in the FCS at 409.1 yards per game — mostly thanks to Cooper Kupp, the unbelievable junior who continues to shatter EWU and FCS records. With his 20 receptions, 275 yards and three touchdowns against Northern Colorado, Kupp is now the all-time leading receiver in Big Sky Conference history at 4,338 yards. He now has 52 career touchdowns, passing Jerry Rice's career total of 50 and leaving him only six behind the FCS record of 58.
#8 Stanford Cardinal (6-1, 5-0 Pac-12) vs. Washington State Cougars (5-2, 3-1 Pac-12) 7:30 pm on ESPN, Martin Stadium, Pullman, Washington

After the initial panic of an opening week loss at home to Portland State, Mike Leach has rallied his troops in Pullman to a successful 2015 campaign thus far. Taking after Baldwin's Eagles, the Cougars have the best pass offense in the Pac-12 at 415.0 yards per game, also good enough for second in the FBS. Redshirt sophomore quarterback Luke Falk has been lighting it up, leading the Pac-12 in passing yards per game (412.1), passing touchdowns (26) and total yards per game (403.3). Falk has been connecting with redshirt senior receiver Dom Williams, whose 25 career touchdown catches are seven short of Jason Hill's WSU record of 32. Leach and the Cougars will be looking for their first home victory against a ranked team since defeating #16 Oregon in Pullman in 2003.
Idaho Vandals (3-4, 2-2 Sun Belt) vs. New Mexico State Aggies (0-7, 0-3 Sun Belt) 5:00 pm on ESPN3, Aggie Memorial Stadium, Las Cruces, New Mexico

The Idaho Vandals will try to level their record on Saturday in New Mexico against an Aggies team that has yet to win a contest this season. Sophomore quarterback Matt Linehan continued his solid campaign last weekend at home against Louisiana-Monroe, going 23-39 for 315 yards and three touchdowns. Nine of those completions went to senior receiver Dezmon Epps, who is first in the Sun Belt Conference in receptions per game (10.2), receiving yards per game (126.2) and total receiving yards (757). And now, he's suspended (again) after an apparent
altercation with his girlfriend
. The Vandals will look to overcome his absence and get the ball into the red zone against the Aggies, where they are the best in the Sun Belt Conference, scoring 95.8 percent of the time.
Pacific Boxers (5-2, 3-1 NWC) vs. Whitworth Pirates (6-1, 3-1 NWC) 1:00 pm on SWX, Pine Bowl, Spokane, Washington

After suffering their first loss of the season to Linfield in a 52-10 blowout, the Pirates will look to get back on track at home in an important Northwest Conference bout against the Pacific Boxers. The Boxers have had a nice season of their own and will try to pass Whitworth in the NWC standings with a victory. However, junior linebacker Dalin McDonnell and the dominant Pirates defense will have something to say about that. The Bucs defense leads the NWC in sacks per game (4.6), turnover margin per game (1.9) and opponent red zone scoring (62.5 percent). McDonnell has exploded as a key play maker for head coach Rod Sandberg's defense, sharing the team lead in tackles at 35 and leading the NWC in interceptions (6) and interceptions returned for touchdowns (2). Redshirt sophomore quarterback Ian Kolste is quietly putting together a great start to his career, with a completion rate of 63 percent, 23 touchdowns, 2,842 yards and only eight interceptions in just nine starts. Kolste is currently second in the NWC in completions per game (25.3) and completion percentage (62.5 percent).