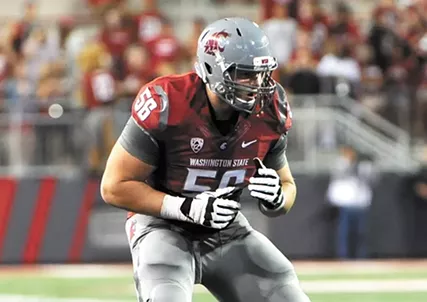 The Washington State Cougars, for the first time in forever, are on the verge of being a big deal again in college football. If Wazzu knocks off eighth-ranked Stanford on national television Saturday night in Pullman (7:30, ESPN), the Cougars will take a giant step toward playing in the Rose Bowl.
"This is why you play the game, for moments like this," WSU quarterback Luke Falk says.
Cougars coach Mike Leach seems infinitely less enthusiastic than Falk. Outwardly, at least.
"There's nothing special about this game," insists Leach, who constantly preaches the need to focus solely on the next play. "We've just got to go out and play the best we can."
Leach rebounded from that drab quote in spectacular fashion when asked about the game-day atmosphere in Pullman.
"It would be probably on a scale with Woodstock, I would say," Leach deadpanned, "as far as being a historic event where people gather. It's kind of a statement for our generation."
The Cougars hope to make the type of statement Saturday that will vault them into the Top 25 for the first time since 2003 (WSU's last winning season). The Cougars received votes in both major polls this week.
As usual, the
Pac-12 Conference North Division leaders from Stanford
(6-1, 5-0) love to run the ball and play physically. The second-place Cougars (5-2, 3-1) will test the Cardinal's league-leading defense with the Pac-12's leading passer (Luke Falk) and receiver (Gabe Marks).
"It'll be a fun one," Falk predicts.
The Cougars' fun figures to be short-lived if they can't control Stanford running back-kick returner Christian McCaffrey and inside linebacker Blake Martinez. Coming into the week, McCaffrey led the nation with 259.7 all-purpose yards per game, and Martinez ranked fourth with 11.4 tackles per game.
Stanford, favored by 12 points, has won seven consecutive games against Washington State and six straight overall. The Cougars are riding a three-game winning streak.
"They're playing with a lot more confidence," Stanford coach David Shaw says.
"As long as we execute," Falk says, "we'll be fine."
Falk has executed as well as anyone in the nation the past three weeks, completing 73 percent of his passes for 1,426 yards and 16 touchdowns.
"We've always had a long history of losing around here," Falk says, "and we're sick of it."