Tucked in from the downtown corner of Howard and Main is the new-ish, second location of Indaba Coffee. Walking inside, one might mistake it for a hip, underground art gallery, due to the art on the walls and the bar feel. Whether swinging in for a quick cup of joe, or bringing work to sip and stay a while, Indaba's atmosphere fosters a perfect environment for your coffee run.
Barista Evan Lovell has been working at Indaba for about a year now, after working at several other coffee stands and shops in his past.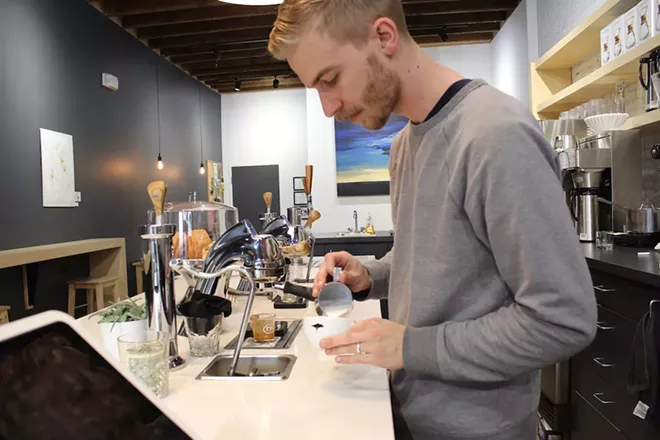 INLANDER: How did you end up at Indaba?
LOVELL: This one in particular, it was just relationships through the coffee community. I've worked at a few others, but they're all fairly tightly-knit, so a friend got a hold of me and was like: "Hey, we need somebody to work here," and I thought, "Alright, cool, I'll do that.'"
Why did you choose to get into coffee?
It actually all started when I first got married. I was working in retail, and I needed another job, and I was working at a coffee stand in the mall up at NorthTown, and I did that for a little bit. I realized how awesome it was, like I'm a very mechanical-minded person, so figuring out the science and everything behind it was really cool. So, from there, building knowledge and using the knowledge I learned in biology and chemistry and stuff like that to apply it and keep doing cool things, making things that people like to drink — it's just fun.
Have you noticed any coffee trends lately?
Transparency, I would say. Like throughout the coffee industry. Just being very transparent with the public about whats going on. There are some roasters who publish all about how much they pay for their coffee when they get it, and how much they're marking it up. With us, our bar is obviously very transparent, and people can see everything that we're doing. That's my favorite part, being able to watch people watch me. They're just entranced by it and it's really cool.
What are some of your hobbies?
I am actually a photographer with my wife on the weekends. We actually went through the photo program at the Falls together. It was some fun stuff. She has a business shooting weddings, and I help her with that. We play with our puppy — normal married life stuff.
What's the most rewarding thing about working here?
Meeting people. Having people come in that you would have never met otherwise, especially down here. Having people come in from these office buildings out of some sort of corporate meeting, they come in and you can kind of connect with them over coffee and have that common ground together, where otherwise, more likely than not, I would have never had the opportunity to talk to them.
Do you see the same people coming in, or do you notice a lot of new people?
I'd say it's pretty 50/50. We get a lot of regulars, but we get a lot of travelers, too. We get a lot of tourists and stuff coming from like Portland or Seattle, which is always kind of cool, they're always super funny. They're always coming in like, "Oh, yeah, they told us to come check this place out, because we'd feel right at home."
Could you share a favorite memory?
I don't think I have just one. I think it's just like every day, just coming in and being able to provide something for somebody and enjoy what I do while providing for my family, I think that's just awesome. It's a cool opportunity to have.
Have you had any really memorable customers?
I've served Allen Stone before, which was cool. That was a pretty memorable one. Actually, his girlfriend is the artist who put up all the work here, so getting to meet him and see how humble they are — they're pretty memorable.
Are you a coffee person or a tea person?
Coffee. I love tea. It's hard because coffee is so difficult. Trying to get it to taste the way that you want takes a lot of work, but with tea you can just shoot and hit something, you'll figure it out.
What is your favorite thing to drink?
I love a good, just black, coffee. I'd say specifically a Kenyan coffee. They're very complex and intense.
What is your favorite thing to eat here?
I have a soft spot for the maple walnut scones. Those are very hard to turn down.
If you could describe this coffee shop in one word, what would it be?
Dope.