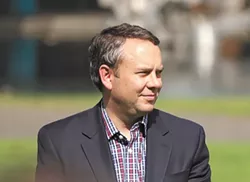 Three weeks to the day
of Spokane Mayor David Condon's re-election, his administration this afternoon dropped a bombshell — revealing in public documents that Condon knew in April that his hand-picked police chief had been been accused of sexually harassing a female subordinate.
The mayor will no doubt face increasing scrutiny in the coming days about why these records are only now being released, but tonight the mayor's spokesman, Brian Coddington, told the
Spokesman-Review
that Condon would not comment, adding that "the records speak for themselves."
City Council President Ben Stuckart tonight called for an investigation into the city's "cover-up" of the alleged sexual harassment. He didn't hide his displeasure with the timing of today's revelations, calling it "bullshit."
"Going forward, I don't know how I trust a single thing anybody says," Stuckart tells the
Inlander.
"How do I as an elected official in the city of Spokane trust a single thing anybody says? I just don't know. ... I've been lied to numerous times, and I think the public has been lied to for months."
The harassment allegations were leveled by Monique Cotton
, a former police spokeswoman, who told the mayor and his top administrator, Theresa Sanders, that Police Chief Frank Straub had "grabbed her ass, tried to kiss her," according to her account contained in the records. Cotton was suddenly transferred to the parks department to manage communications in May, and city officials gave shifting explanations as to why.
As for Straub, Condon forced him out on Sept. 22, citing the chief's abrasive style. "After receiving concerns over the last several weeks of his management style, it was clear we needed to move in a direction, change management," Condon said at the time.
However, it's clear from the just-released records that other factors were also at play. According to notes of a meeting on March 31, taken by Lt. Mark Griffiths, Straub berated Cotton, Capt. Eric Olsen and Griffiths in a profanity-laced tirade for not informing him of an issue with Griffiths' overtime.
Straub yelled at Cotton, blaming her for not telling him of the issue soon enough. According to Griffiths' notes, Straub said that she "made him look like a f—-ing asshole" and "f—-ed him in the ass."
Cotton then reported the incident to Condon and Sanders on April 13. She said she did not want to file a sexual harassment complaint against Straub but agreed to back up accusations of his "abusive behavior." Cotton also demanded to be transferred out of the police department.
In a subsequent text message to Sanders on April 13, Cotton wrote: "My transfer into a new position has to be viewed as advancement; without any hint that it is for any reason other than as a promotion for my past performance. I'm happy to participate in an investigation regarding the way I was berated on 3/31, and other times I was berated however cannot cooperate with any investigation regarding the matters I presented confidentially to the Mayor and you because of the inevitable publicity and disclosures that will impact me and my life in every way — physically, emotionally and professionally."
Condon himself denied that any complaints
of sexual harassment had been filed against the former chief when he announced Straub's departure on Sept. 22. "The issue that you speak of, there has been no official filings of anything," the mayor said.
Technically, it seems, there have been no official complaints. However, moments before the Sept. 22 announcement, Stuckart recalls asking Sanders if any public records would eventually come out to bite them, and she said "no."
"She lied right to my face," Stuckart says. "Quite frankly, they made liars out of a lot of people and denied there was any motive for moving Monique from the police department to the parks department."
The Condon administration has previously been criticized for being less than truthful about Straub and Cotton. In the days leading up to the chief's ouster, city officials also denied to reporters any knowledge of problems between the two. However, after questions arose about the veracity of those claims, Sanders, the city's top administrator, acknowledged she violated the city's ethics code barring dishonesty. Earlier this month, she agreed to pay a $75 fine.
Straub, meanwhile, has filed a $4 million claim against the city for violation of due process. When Condon announced the chief's departure, the city released a letter from police command staff complaining about his management style. Mary Schultz, Straub's lawyer, has said Straub was never given a chance to respond, violating his right to due process.
"You can release or reassign a police chief. He's an at-will employee," she says. "But what you can't do is send out a bunch of attorney client confidential letters without letting the person accused of these things address them."