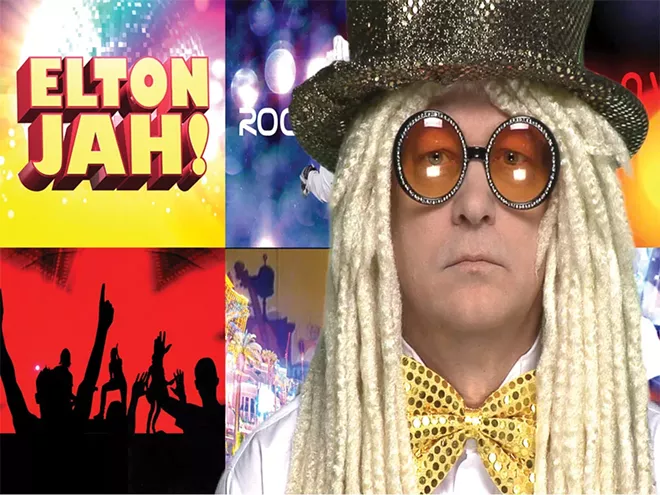 At the stroke of midnight, we're filled with so much hope. As the New Year begins, we kiss our honeys as the fireworks explode, and it seems like we're on the precipice of something fresh and promising. A great soundtrack solidifies the whole experience. Fortunately, there are a slew of live music events taking place on New Year's Eve Thursday night. Here are four in particular that caught our eye:
Blue Öyster Cult at the Northern Quest Resort & Casino
Of course, they'll play the hits — "(Don't Fear) The Reaper" and "Burnin' For You" — but the big thing with Blue Öyster Cult's hard-rockin' NYE celebration is that, unlike many of the nostalgia acts touring these days, you're at least getting two of the original band members. The show at the Pend Oreille Pavilion starts at 10:30 pm; tickets are $25. Fans get party favors and free champagne at midnight.

Elton Jah Reunion at Red Room Lounge
After last year's final show, you may have thought that this breezy music was gone forever, but Elton Jah — the reggae performer who covers Elton John hits — is back for one night only. The show is $5 and starts at 8 pm. Jah, mon.

'80s party at Jones Radiator
It's time to let local DJs Lydellski and Orange escort you back to the 1980s with their synth- and punk-heavy tunes. Those showing up in proper '80s-era attire get in for free; everyone else pays $5. The whole neon-lovin' show starts at 9 pm.
Pickwick at the Bartlett
Pickwick is beloved by Spokane's indie-rock fans; when lead singer Galen Disston unleashes his soul-tinged voice, local audiences go wild. The show starts at 9 pm; atypically for the Bartlett, it's for the 21-and-over crowd. Unfortunately, tickets are now sold out for this event. but those with tickets will rock in the New Year in style.
So many other choices!

Honestly, most local bars, hotels and music venues are hosting live music events Thursday night and many are passing out free champagne at midnight. Here's a
link to all of our music
calendar listings for NYE. It's one of the most comprehensive around. Just a friendly reminder to be safe out there, they don't call NYE amateur night for nothing.