ON INLANDER COM

•
Hot Cross Fun
David Cross, famous
Alvin and the Chipmunks: Chipwrecked
star is
coming to Spokane Feb. 4
. Make sure to yell "ALLLVIIIINNN" if you're in the audience. He loves that.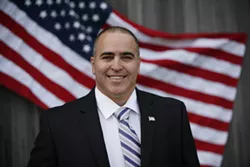 • Every Rose has its Guns
Guns 'n' Roses and LCD Soundsystem may be coming to
Sasquatch this year
.

OTHER LOCAL NEWS

• Shahram Symposium

Shahram Hadian, a controversial anti-Islam Spokane Valley pastor, has reserved the Idaho capitol conference room to give a lecture about refugees on the opening week of the
Idaho legislative session
. (Spokesman-Review)
• Pox upon your schoolhouses
Wanna attend Spokane Public Schools? Well, you'll have to
get vaccinated to chickenpox
then. (Spokesman-Review)
•
Even if you don't look like exactly like the little picture on the door

A new rule requires public restrooms to be opened up to
whichever gender transgender students identify with
. (Spokesman-Review)
•
Boys just wanna have guns
Barack Obama: An unlikely, but effective, guerrilla marketer for the firearms industry. He gives a speech about gun control, proposing even mild measures, and gun sales spike.
Spokane is not an exception
. (KREM, which, warning,
autoplays
their videos.)
ELSEWHERE

• You call that a nuke?

North Korea claims it tested a
hydrogen bomb
, but the explosion was so small and pathetic that it was really closer to a cherry bomb. Next time
do
better guys. (New York Times)

• Undershooting

The FBI's official total for the number of people shot and killed by police officers is about
half the actual reported total
. (Washington Post)
•
Tweeting of a Reporter

The
Milwaukee Journal-Sentinel
reporter who covered the Steven Avery trial in 2007 — before the recent
Making a Murderer
Netflix series made it infamous — has been
live-tweeting the series
. (Milwaukee Journal-Sentinel)