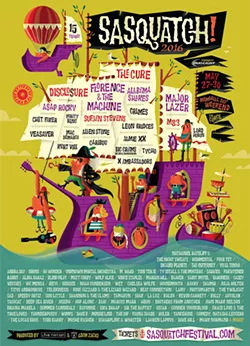 The
Sasquatch! lineup
refuses to be what you may have expected. Look to the other major announcements, like last
week's
Coachella lineup, as a guide and you'll be sorely disappointed. What promoters Live Nation and festival creator Adam Zacks bring to the annual Memorial Day festival, this year celebrating its 15th anniversary May 27-30 at the Gorge Amphitheatre, is always its own thing.
This year, the biggest headliners include
Florence and the Machine, the Cure
(stopping here as part of their first major tour in seven years),
Alabama Shakes, A$AP Rocky
and
Sufjan Stevens
(who is on the Coachella bill). And then exciting those electronic-oriented folks:
M83, Disclosure
and
Major Lazer.
It would have been cool had Guns N' Roses and LCD Soundsystem come our way too, but we absolutely don't need 'em.

Outside of the headliners, here's who we're thrilled to see:
Big Grams – Phantogram was just at the Knitting Factory, but this time they're performing with Big Boi
Kurt Vile
Grimes
Mac DeMarco
Digable Planets – the Seattle alt-hip-hoppers recently reunited after four years apart
Ty Segall and the Muggers
Frightened Rabbit
Leon Bridges
Wolf Alice

Acts with Spokane-area ties on the bill:
Andra Day – The Spokane-born
songstress
recently performed with Stevie Wonder in an Apple commercial
Allen Stone – Chewelah's favorite musical son, who now resides in Seattle, played the Knitting Factory as part of his recent tour
This year,
the bands in the lineup that have recently been (or about to come) through our area
is actually quite staggering, proving our scene is pulling in a lot of the right up and coming regional and national acts. Spokane is a place bands want to play.
Wimps – Aug. 2015 at Baby Bar
Tacocat – Nov. 2015 at the Bartlett
Hop Along – opening for Dr. Dog Feb. 8 at Knitting Factory
Fauna Shade – May 2015 at Red Room Lounge, as part of Volume
Summer Cannibals – Aug. 2015 at the Bartlett
Joseph – Oct. 2015 at the Bartlett, as part of Bartfest
Deep Sea Diver – Nov. 2015 at the Bartlett and also Bartfest
Bully – June 2015 at the Bartlett
La Luz – Nov. 2015 at the Bartlett
Shannon and the Clams – July 2015 at Mootsy's
Noah Gunderson – Sept. 2015 at the Bartlett
Purity Ring – Oct. 2015 at Knitting Factory
The comedy tent is also back bringing in top acts like
Natasha Leggero, the Lucas Bros, Todd Barry, Moshe Kasher
and more.
Tickets
, which go on sale today at 10 am, of course, aren't cheap. Hopefully, you started saving up after you left the dusty Sasquatch! grounds last year. Prices start at $350 for admission to the Gorge Amphitheatre and general camping starts at $150 per car for the four-day festival. This is unchanged from last year. In years past, tickets have sold out almost instantly, but last year's sales were more lagging. We'll see what happens this time around.
It's always a treat to look at the
glamping tickets
, because who doesn't have an extra $5,500 laying around? At least the entrance tickets are included. But no matter where you camp, rest assured it will be scorching hot during the day and freezing at night, and the music will make up for everything.
Get a load of last year's Sasquatch! festivities right
here
and
here.