We're obviously super excited about the fourth annual Inlander Restaurant Week coming up in exactly a month — happening for 10 days from Feb. 26 through March 6 — but there are many special culinary events to look forward to in the meantime. (Also, don't forget that Restaurant Week menus are being released online next week, on Thursday, Feb. 4).
Special one-time and occasional chef dinners aren't a new trend, but of late we've definitely noticed more of these intimate events happening across the region. Since most have limited seating and feature a special menu offered that night only, making reservations is required. This means knowing about an event ahead of time is important, as many sell out early.
Here's the latest round-up of one-time chef dinners happening in the coming weeks that we've heard of:
Cellar Supper Club Wine Dinner — Chef Adam Hegsted
The Coeur d'Alene restaurant was purchased more than a year ago by acclaimed local chef Adam Hegsted, and occasionally hosts exclusive wine dinners, including this Friday's event (Jan. 29, at 6 pm) which is limited to only 10 guests. The $125 ticket price (including tax/tip) includes a seven-course dinner, which includes highlights such as foie gras, braised lamb, poached oysters and smoked duck. Each course is paired with wine from Europe or Washington state.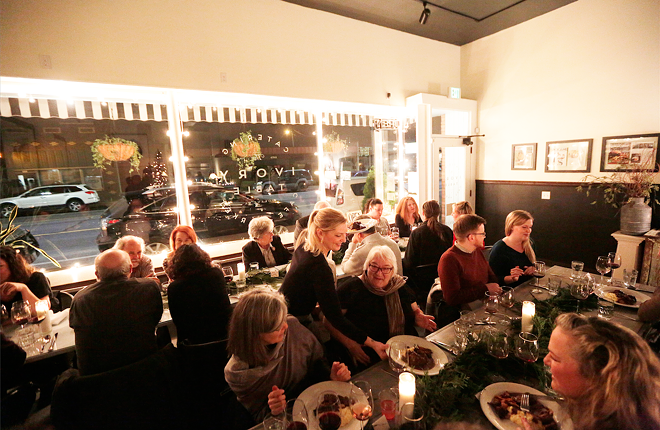 The Ivory Table's Supper Club — Chef Kristen White
This monthly event at the French-inspired cafe on East Sprague features a four-course dinner created by Chef/owner Kristen Ward. (Read more about the dinners in this Inlander feature from December.) Held monthly on the first Friday, February's dinner (Feb. 5, 6 pm) is Spanish-inspired and includes wine pairings selected by Pomum Cellars' winemaker Javier Alfonso. There are only 30 spots available at these dinners, which are $65/person not including wine pairings (an additional $25/person).
If you can't make it to the Friday night dinner, or if it sells out (which happens each month) there's also a special Valentine's weekend dinner offering five courses served by candlelight, set for Sunday, Feb. 14, at 6 pm. Dinner and wine pairings are the same price as the monthly Supper Club dinner.
The Streets of Mexico Meet Ruins — Chefs Tony Brown and Chad White [SOLD OUT]
First, this event has already sold out (proof that these one-off dinners are extremely popular and limited) but we wanted to mention it to show the variety and regular occurrence of these local chef dinners. Chef Chad White made headlines in the local culinary scene late last year after announcing a return to his hometown of Spokane, with plans to open a restaurant here (location and date TBA) called Native Post & Provisions. In the meantime, he's been teaming up with local chefs, including Sante's Jeremy Hansen and Ruins' Tony Brown, to host multi-course dinners melding his and another chef's culinary styles. The Feb. 4 collab dinner at Ruins ($65/person) is sold out, but check out the next event for another opportunity to experience Chef White's — who's notably competing on the current season of Top Chef on Bravo — Mexican-influenced creations.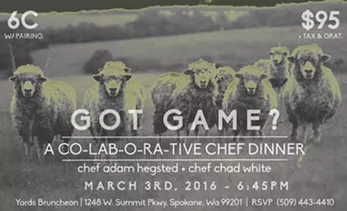 Got Game? — Chefs Adam Hegsted and Chad White
Bummed about missing out on the previous Chef White collaborative dinner at Ruins? Next up is a March 3 event at the Yards Bruncheon, a collaboration with chef/owner Adam Hegsted, also the culinary brains behind The Wandering Table and the newly opened Gilded Unicorn downtown, as well as the aforementioned Cellar in Coeur d'Alene. Reservations for the game-themed dinner open next Monday, Feb. 1. The six-course dinner with wine pairings is $95/person, not including tax and gratuity. It starts at 7 pm, and a side note on the event page mentions that no ingredient/dish substitutions will be accepted, however the team will accommodate specific food allergies if notified in advance. The no-substitutions rule is not unusual, since these meals require careful planning and ordering. From a chef perspective, the main point is to experiment and offer a varying experience from their eateries' traditional menus.
Since these events often pop up quietly, and due to their limited capacity, a helpful tip is to follow the restaurants or their chefs on Facebook, Twitter and even Instagram. Also stay updated with the Inlander's online events calendar — find all food-related events listed here.