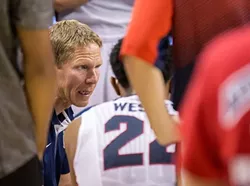 There are a lot of ways to support your favorite team, from buying t-shirts to attending games to yelling at your TV screen. How about a way that could conceivably help save a few lives?
Gonzaga men's basketball coach Mark Few is part of the
ESPN Charity Challenge
, in which coaches from across the country team up to raise money for cancer-fighting charities in their respective regions. For Few, that means helping out the Community Cancer Fund.
Few has already made it to the second round, which means the CCF is going to get $7,500 to help with its work. But that's just the first step. Few is currently battling coaches like Oklahoma's Lon Kruger, Oregon's Dana Altman and West Virginia's Bob Huggins to show he can rally local support for his cause and make it to the next round. If Few makes the top 16, that's $10k for the CCF. Ultimately, he could raise $100,000 for the Community Cancer Fund through ESPN's contest.
But first he has to get out of the second round. Few is currently in 23rd place out of 24 competitors. That won't work. What can you do to help? Simple. Visit
VoteCoachFew.com
and hit the "vote" button. That will take you right to the ESPN voting page. Or you can
go straight there
and find Few on the board.
Here's a little video of Few explaining how to help:
CORRECTION:
A previous version of this post might have caused confusion between the current fundraiser through the ESPN Charity Challenge and the
Coaches vs. Cancer
effort, a collaboration between the
American Cancer Society
and the
National Association of Basketball Coaches
. The Coaches Vs. Cancer events in the Spokane area are currently being planned for 2016, and in 2015 included participation from WSU basketball coach Ernie Kent, EWU's Jim Hayford and Gonzaga women's coach Lisa Fortier.