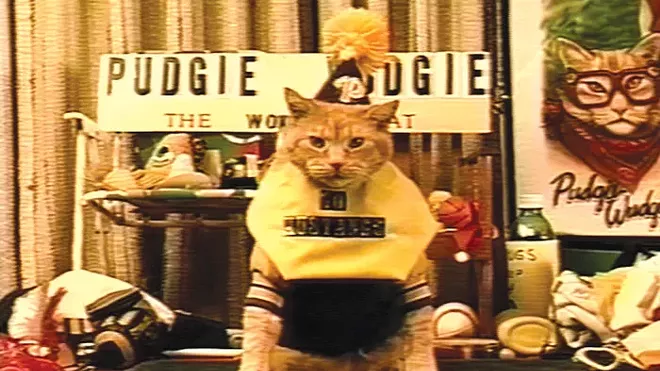 The title of this Canadian-made documentary is an obvious calling to all cat lovers. Showing twice during the Spokane International Film Festival, the first is Tuesday, Feb. 2, at 6:30 pm at the Magic Lantern Theatre (25 W. Main). An encore is also scheduled for Saturday, Feb. 6, at 2:30 pm. Individual tickets for each showing can be purchased at the door for $10. Also, for the Tuesday night screening, filmmaker Tony Massil is scheduled to attend.
Before the show: Pop in for happy hour at Zola (22 W. Main) just across the street from the theater. With a happy hour that runs from 4-7 pm daily, you can fill up with dinner and a drink (or two) for around $10-$15. Try the Zola Sliders plus a $3 pint of the currently featured craft beer.
About the film: While the title clearly implies that this look-in is about a man and his cat, Frank and the Wondercat focuses more on the personal life and eccentricities of its main character, 80-year-old Frank Furko. After all, it takes a certain type of person (and a special kind of cat) to desire to train a feline to perform circus tricks, dress up in costumes and push it around town in a stroller. If anything, these behaviors garner a lot of attention. The story of Frank's unique relationship with his (pre-Internet) famous cat Pudgie Wudgie is told through his recollections of the 14 cherished years they spent together, traveling around the country to appear on talk shows, to perform at local schools, cruise through town in parades and tailgate at Pittsburgh Steelers games. Vintage VHS footage of these good ol' days are paired with photos and stories of Frank's personal past — mainly his relationships with his parents and his general lack of close relationships with anyone outside his immediate family. While presented as an examination of our special bond with our pets, Frank and the Wondercat seems to focus more on how some people tend to want to live in, or relive, the past when the present just doesn't compare.
After the show: If you're still hungry, thirsty or didn't have time to nosh before the screening, hit up the small plates offerings at the nearby (as in two blocks west) Table 13 (333 W. Spokane Falls Blvd.) inside the new Davenport Grand Hotel. From whiskey flights ($13-$25) to dozens of snacks and entrees, none priced at more than $13, Chef Ian Wingate's menu at the swanky hotel eatery is all about sampling and sharing, perfect for a group hangout to discuss what you liked or disliked about the film.