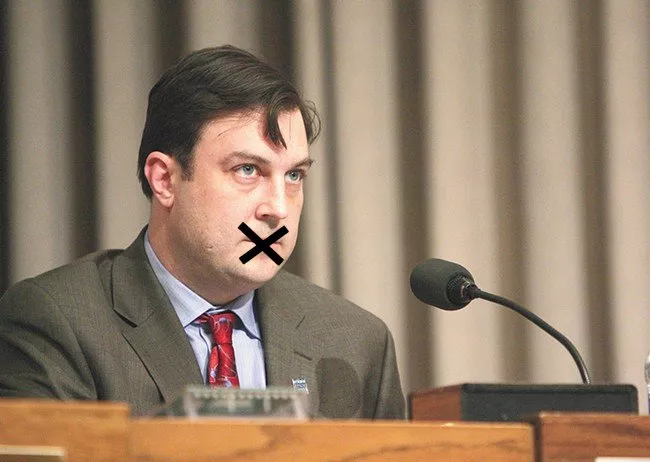 An assistant Spokane city attorney is advising city leaders that they "may not lawfully" disclose what they heard in an executive session the day before former police Chief Frank Straub was fired.

Now, Spokane City Council President Ben Stuckart says he feels threatened that telling the whole truth could come with consequences.

"As a citizen, I'd have to hire my own lawyer to protect myself," Stuckart says. "Just the threat of a claim is enough to stifle me. I make $55,000 a year. It's not like I'm making $150,000 a year, like division heads in the city."

Kris Cappel, an independent investigator, has been hired by the city to get to the bottom of the scandal surrounding Straub, the sexual harassment allegations leveled by a subordinate and the city's handling of the situation. Meanwhile, the city's ethics commission is continuing to investigate complaints against Mayor David Condon.

But now, the possibility has been raised that when Cappel or others question council or park board members, those city leaders may be legally barred from giving complete answers in some cases.

Specifically: What happened in the executive session held on Sept. 21, 2015 — the day before Straub was forced out?

Typically, what happens in executive session stays in executive session. That's where the council talks about confidential information like potential land deals and personnel matters.

The city council has already waived its privilege, voting 4-2 on Dec. 17, so that members could speak to the investigator about what occurred.

However, Assistant City Attorney Pat Dalton now disputes whether the council can legally waive their privilege.

In an email yesterday to city officials as well as to Rick Eichstaedt, who is representing a complaint against the mayor, Dalton writes: "Information obtained from an executive session of the City Council or City Park Board may not lawfully be disclosed by a participant in the executive session." Dalton pointed to the ethics laws of Washington state, prohibiting municipal officers from disclosing "confidential information."

"This statute contains no provision allowing the Council or Park Board to vote to override the state statutory provision," Dalton writes. "We also generally point out to City employees and officers the provisions of the City Ethics Code, which makes it a violation to disclose confidential information."

City spokesman Brian Coddington did not immediately return calls for comment.


But if it's true that the council can't waive the confidentiality of executive sessions, that fact seems to contradict the city's past analysis, its own ethics code and the bylaws of cities across the state of Washington.

• The state ethics language doesn't define confidential information. But Spokane's ethic code defines "confidential information" as "information that is initially disclosed or discussed in executive session, and which is not available to the general public on request; however confidential information does not include information authorized by the mayor or a majority vote of the council to be disclosed."

• Other cities across the state and nation have similar exceptions written into them, allowing the cities to vote to waive the confidentiality of an executive session. In Washington state, Renton, Anacortes and Mt. Vernon all have language that information in executive session can't be disclosed, "unless a majority of the City Council shall authorize such disclosure."

• In an ironic move, Stuckart also points to City Attorney Nancy Isserlis' analysis when she accused him of an ethics violation, showing that a city council can vote break confidentiality in cases of attorney-client privilege.

"Where confidential written advice or information is provided to an official department or body, for example, the Spokane City Council, only the body — not individual members — can agree to waive attorney-client privilege," Isserlis wrote, citing the same state ethics code statute Dalton did.

Stuckart adds that the council has waived executive session privilege at least once before, in order to allow the ethics commission to look at the confidential memo Mike Fagan discussed with the Inlander.


Nancy Krier, Washington state's assistant attorney general for open government, says that generally the body that's given a privilege of confidentiality also has the authority to waive that privilege. She says that the executive sessions are laid out in the state's Open Public Meetings Act, which allows a governmental body to hold an executive session, but does not actually require it.

But she also doesn't know of any examples of how courts have dealt with the question of a city council waiving executive privilege. "I'm not aware of a court decision that has dealt with this," Krier says.

Eichstaedt says that Dalton's analysis is flat-out wrong, and that he's "arguably impacting [Stuckart's] First Amendment rights." Eichstaedt says that the analysis could hurt his case before the ethics commission.

"There are factual issues here that require witnesses ... I don't have access to," Eichstaedt says.

Similarly, Stuckart says that without being able to discuss the executive session with the investigator and ethics commission, "it would not give context to what the mayor has been saying both privately and publicly."

Stuckart says he gets angry, "when somebody's telling me I can't speak, when I can."

He says Dalton appears to be threatening "a park board or city council member who discloses information from [an] executive session with misdemeanor criminal charges and ethics violations."

In his email, Dalton suggests that anyone who is considering disclosing that kind of information should hire their own attorney.

"I appreciate, Rick, that you may have a different opinion about whether it is permissible for City employees and officials to disclose such information in an executive session," Dalton writes, "but I hope that you would recommend to anyone about to disclose such information that he or she should consult with his or her personal attorney, at least as to the potential violation of state law."

Dalton isn't the only one warning city leaders about sharing previously confidential information, Stuckart says. Laura McAloon, an attorney appointed by Condon to the committee guiding the investigation into scandal, has also warned officials they don't have the authority to waive their privilege, he says.

McAloon, for her part, says she's restricted from confirming or denying she said that.

"The joint team, we agreed that we wouldn't talk about anything about the investigation, except as a team and doing a joint release. I really can't talk to you about it," McAloon says. "I haven't talked to [Stuckart] about it.... I'm not giving any legal advice when I'm in those meetings."