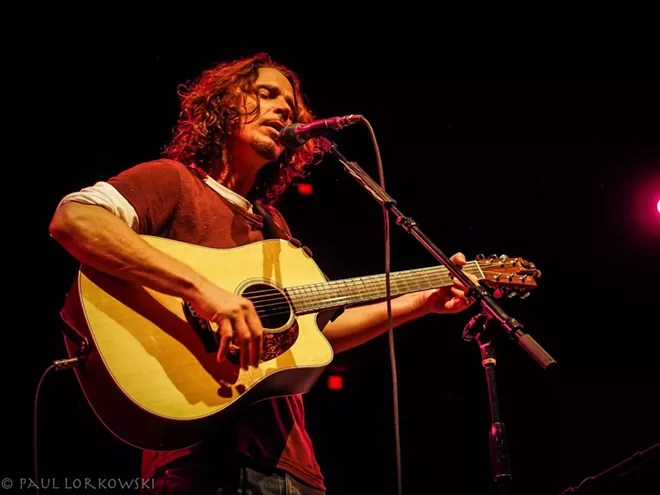 Chris Cornell
, he of the banshee wail and stellar career as frontman for both Soundgarden and Audioslave, is coming to Spokane this summer on an acoustic tour supporting his
Higher Truth
album.
Cornell will hit the Martin Woldson Theater at The Fox on July 20. Tickets are $45, $50, $60, $70 and $96, and go on sale Friday at 7 am at the
TicketsWest website
.
After Soundgarden reunited a couple years back to make new music and tour, Cornell recorded
Higher Truth
with producer Brendan O'Brien (Neil Young, Pearl Jam, Bruce Springsteen) and created a sparse collection that focuses on his voice and lyrics more than the roar of electric guitars.
Of course, anyone who's seen Cornell with Soundgarden, Audioslave or solo knows that the man possesses the kind of voice that can peel the paint of the walls of a joint when he really lets it rip.
I saw him when he put our his first solo album,
Euphoria Morning
, back in 1999, and while the set was evocative of Jeff Buckley's intimate singer/songwriter vibe, the show was a bit disappointing because Cornell didn't delve into his back catalog much, if at all.
Reports from his current tour indicate his current trip covers all aspects of his career, meaning you'll potentially get acoustic takes on Soundgarden favorites like "Rusty Cage" and "Black Hole Sun," as well as Temple of the Dog tunes like "Hunger Strike," Audioslave tracks, covers and plenty from
Higher Truth —
that was the case during the fall leg of the tour.
Again, the tickets go on sale this Friday, and a dollar from each will support the Chris and Vicky Cornell Foundation, which is currently raising funds to support children facing problems including homelessness, poverty, abuse, and neglect.
Here's a tune from Higher Truth, "Nearly Forgot My Own Name:"