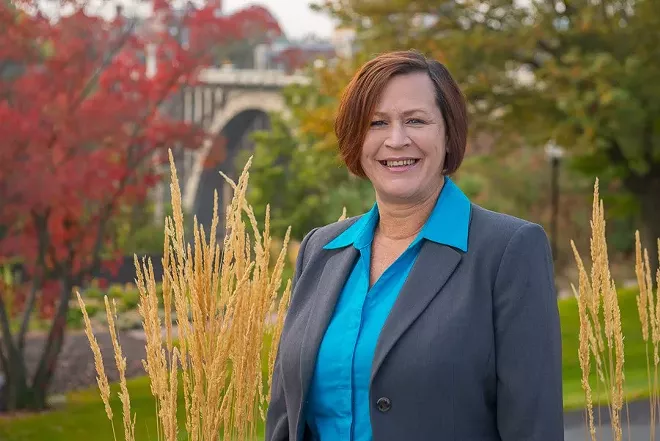 When Shar Lichty lost her bid to become Spokane mayor last year, she went to Facebook to thank her supporters, then hinted that she already had her eyes set on another campaign.
"We built a great foundation for my next race," she wrote.
That campaign, it turns out, will be for the 6th District House seat currently occupied by state Rep. Jeff Holy.
"This is the race I've been wanting to run for about three years," Lichty told the
Inlander
Tuesday. "So I'm much more invested in this one and more excited."
Lichty, an organizer with the Peace and Justice Action League of Spokane, is the first challenger for Holy's seat that he won in 2012. She says it's always been her career goal to become a state representative, she's just running sooner than she had planned.
She lost to Mayor David Condon by a wide margin in the 2015 general election, but she says that race gave her a better idea of what it's like to campaign and run for office, along with more name recognition. She says she's more equipped to work at the state level, since her work in recent years has been more focused on policy rather than administration.
Lichty says she is running for Holy's seat because "he's not really leading or doing anything in Olympia. And he's not representing the community at large," adding that he follows the Tea Party line.
Lichty is a proponent of criminal justice reform. She wants to remove obstacles for people who have been released from prison and want a job. That includes
Legal Financial Obligation reform
, which involves cutting LFO interest rates, prioritizing compensating victims and defining when courts cannot impose LFOs and when courts cannot jail people who can't pay. Her plans also include a fair-hiring policy and jail alternatives. However, she says Holy has been "pretty good on most of that stuff, actually," compared to other representatives.
She says she initially planned on running for the other 6th District seat occupied by Rep. Kevin Parker. When asked where she and Holy differ, she says she would have to do more research before giving an answer.
"Most of my last two months of research has been on another opponent," she says.
Holy, through a spokeswoman, did not immediately respond to a request for comment Tuesday because he was on the House floor voting on bills.