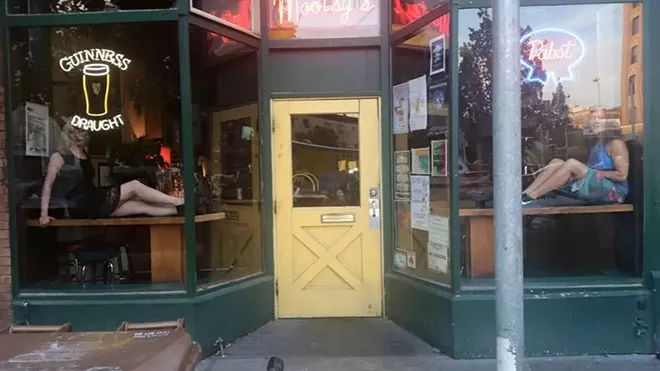 Here are the three music venues hosting killer shows this weekend. Of course they aren't the only places putting on live shows. Check out the
Inlander
's full weekend music listings right
here.
BABY BAR
Friday (as in tonight), the burrito joint/tiniest bar is hosting a late and early show with five bands in all. Get there by 8 pm for a full evening of punk, grunge and rock.The early show gets girly with Seattle punk rockers
Mommy Long Legs
and then manly with Seattle pop rockers
Boyfriends
(also playing
Treefort
this weekend), while the late show brings in locals
Jan Francisco
and
the Smokes
. Portland's own pop rockers
Honey Bucket
conclude the evening. Then Saturday, Texas-based
the Rich Hands
(also playing Treefort) headline the Baby Bar. Locals
Jan Francisco
and
Trancine
open. Get there around 9 pm. Naturally, these shows are all free.
THE BARTLETT
The Round music and arts series is still running merrily along. Tonight, the Bartlett hosts the
17th edition
of the show, this time with local folk acts
Perenne, Feral Anthem
and
Jacob Jones
getting everyone in touch with their emotional sides. And for a perfect sound to close out Easter Sunday, the Bartlett welcomes the noise-rock, psychedelic punk and grunge sounds of Sub Pop's own
So Pitted.
The show also features
Diarrhea Planet
and
Music Band
. Cost is $10 and the show starts at 8 pm.
MOOTSY'S
The famed yellow-doored establishment is finally old enough to drink this weekend. To celebrate the joyous occasion, the downtown watering hole is
putting on
two back-to-back shows full of some of the best local acts around. Friday night, it's
Von the Baptist, Pine League and Cursive Wires
providing the soundtrack; on Saturday, it's
Six State Bender
(an on-and-off-again band that has songs called "Tits" and "Spokane Drunk City")
, Fun Ladies, Dark White Light
and
Foxy Sluts.
Shows start at 9 pm and cost is $5. Get there early as these shows are sure to be at capacity.
LOOK AHEAD TO MONDAY: The Sword
plays the Pin!
The Blind Pets
cut the crap and play Baby Bar. Both shows are going to be off-the-chain wild.